Today at Style Beyond Age we´re joined once again, by our resident stylist Serena, as she spills her industry secrets and shares 10 Styling hacks to start incorporating today.
10 Styling Hacks to start incorporating today!
If there's one thing that all stylists agree upon, it's that age has nothing to do with style. Great style is possible no matter how old you are; the key is knowing how to flaunt your body sensibility in a way that works for you. Navigating the ins and outs of fashion styling can be tricky, so I've put together a list of my favorite styling tricks that you can try today.
1 – To Tuck or Not to Tuck
In this case, we should have split the difference! This blouse looks like a boxier fit with a lot to tuck in, especially paired with these high waisted jeans. With this particular shirt option, I would have chosen a French Tuck or Front Tuck. Unless you are going to tuck into your seamless panties (which is my favorite trick), I would recommend working with the fabric instead of trying to hide it. This way, we are visually creating a waist and elongating the look. To achieve a casual front tuck, just tuck the middle of your top straight into your bottoms. You can losen where needed to achieve this casual tuck. I found an excellent resource for all other tucking issues here.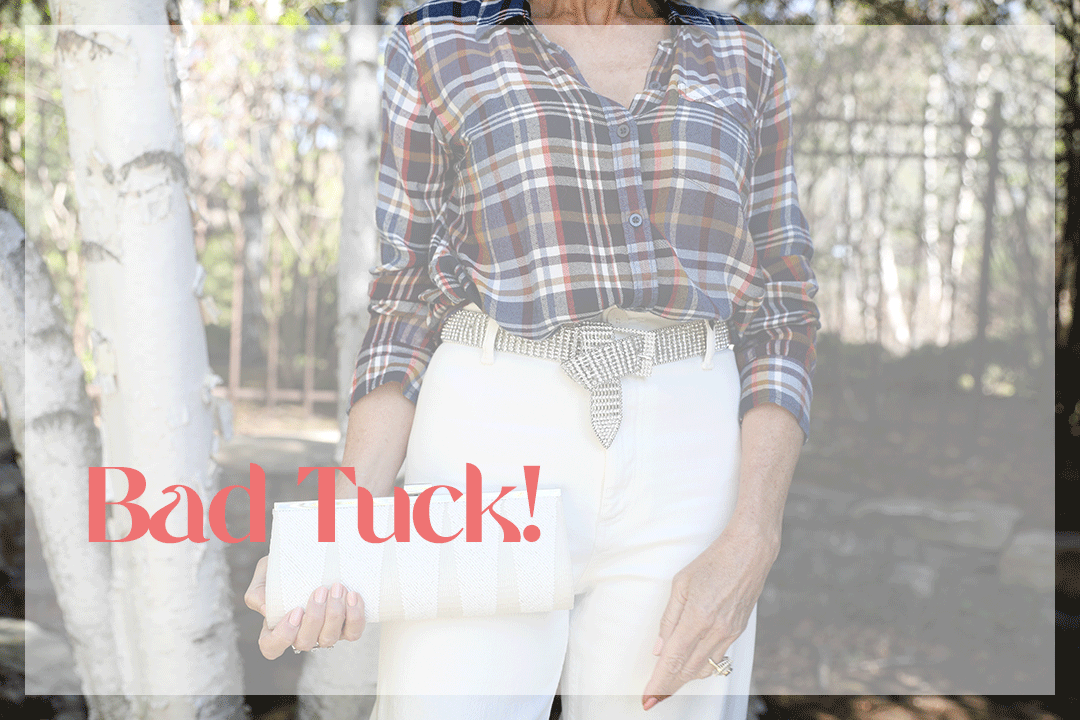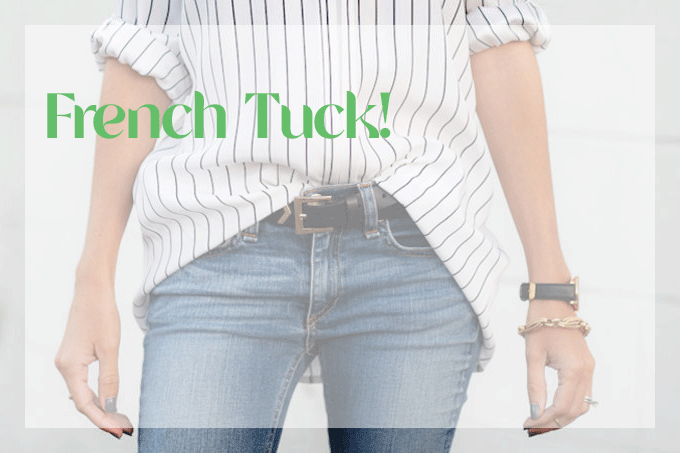 2 – Shortening Statement Sleeves
I loved this dress so much but when my mom tried it on it just seemed off! The dress itself has wide longer sleeves that overpowered her and looked messy. We transformed these sleeves into a more bohemian blouson sleeve by wrapping two longer rubber bands (or two hair ties) around each wrist and covering them with matching silver bracelets.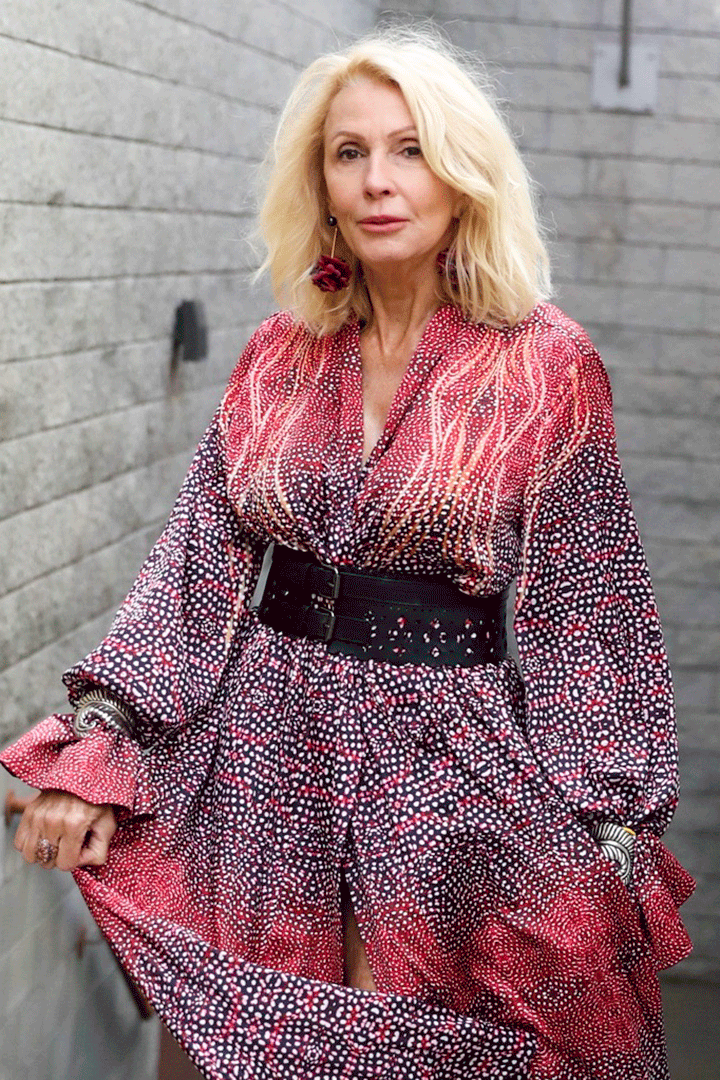 3 – Define Your Waist
By adding a good belt; you can elevate any outfit. You must, however, be mindful of your body proportions when choosing the right belt for your look. Short-waisted women look best in skinnier belts while thicker belts are better suited for longer torsos. Consider a belt, another piece of jewelry to be the icing on the top of your outfit!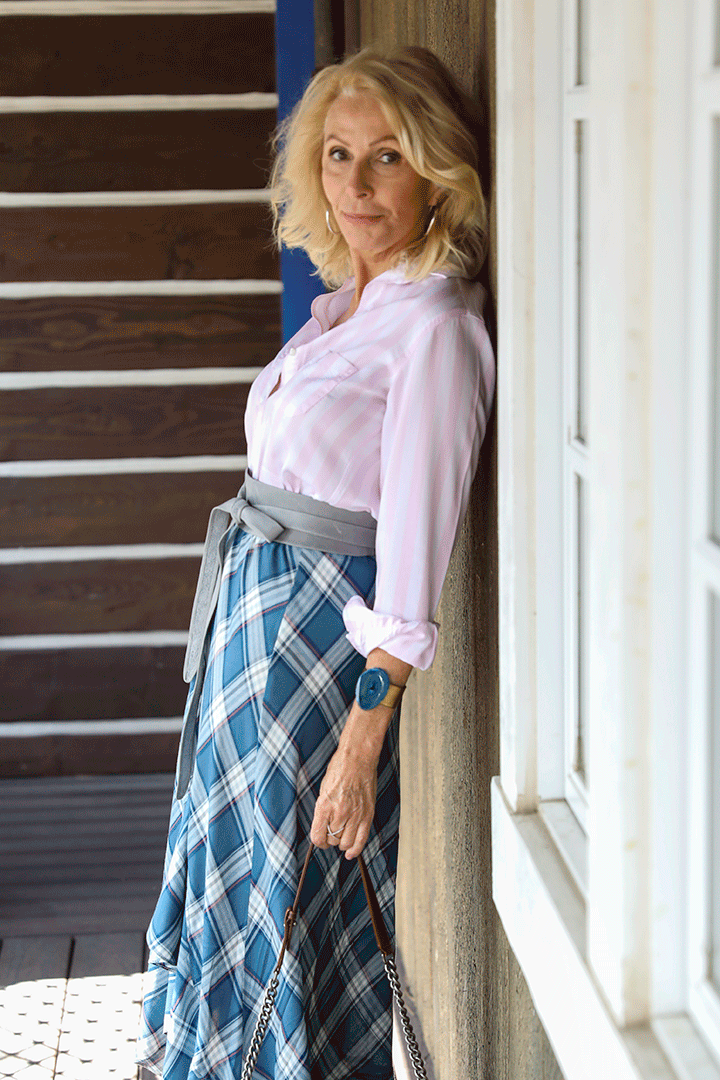 4 – Wear One Color
Monochromatic looks are chic, timeless, and are instantly more fashionable! Dressing in all one color is a simple, clean approach to putting an outfit together. Try mixing textures in the same hue to create a striking look that can be just as bold as a pattern.
This suit is from Choosy, Here is a similar one from there in Satin.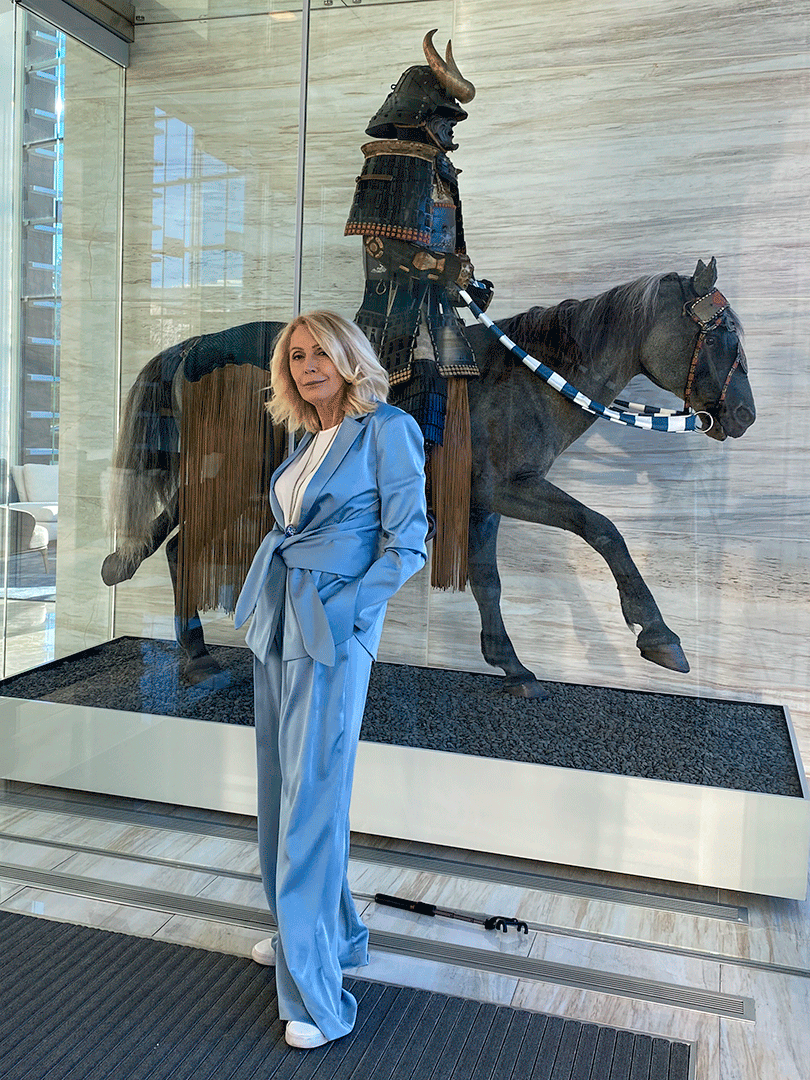 5 – Invest in Shape Wear
We all need a little help at times and wearing the proper shape wear underneath everything helps to give you smooth lines. We love Evelyn & Bobbies longline boyshort to smooth under skirts because they are just the most comfortable and aren't too clingy like traditional shapewear.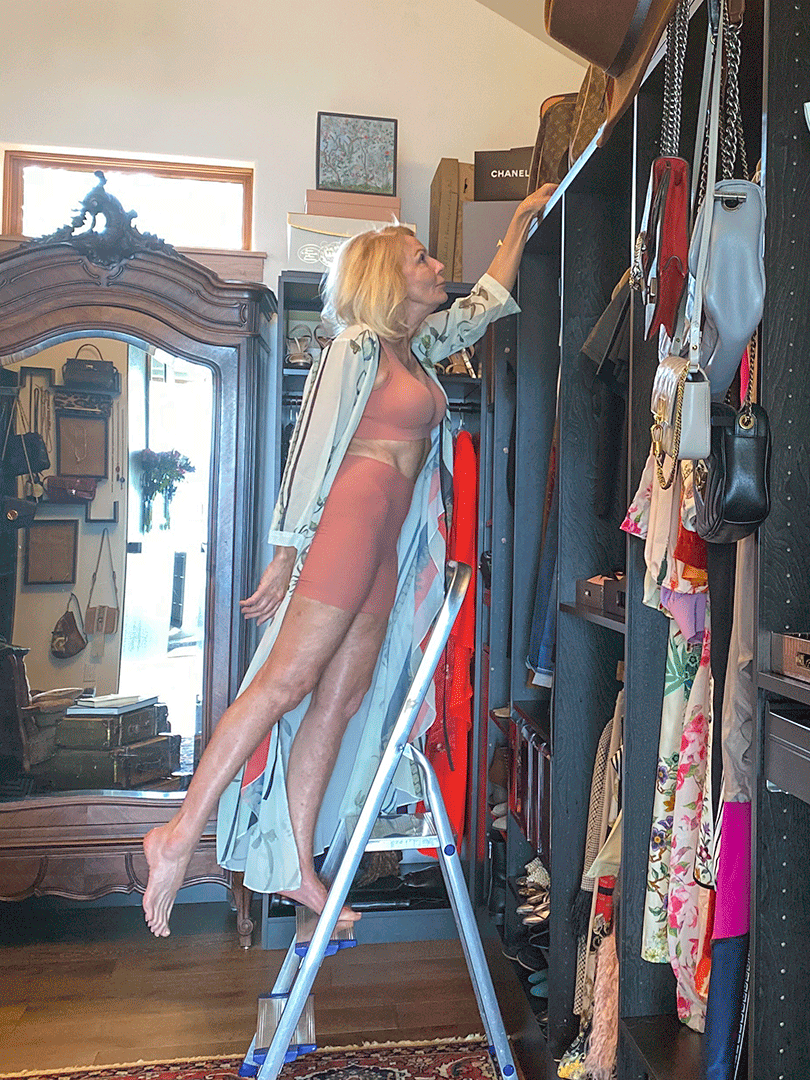 6 – Graphics Tees
I love to mix the feminine separates with tougher "borrowed from the guys" pieces. Try thinking outside the box while styling your favorite band tee by pairing it with something unexpected. Whether it is a silk skirt, or a two-piece suit, pairing a graphic t-shirt will always give you a bit of an edge.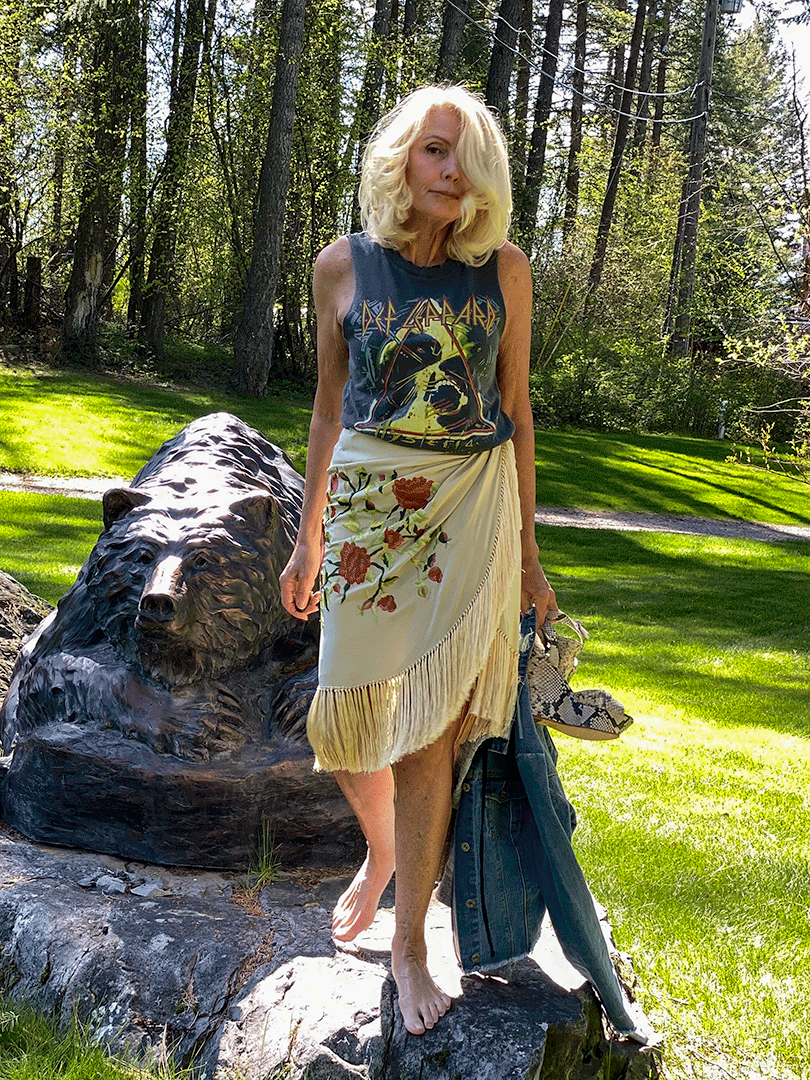 7 – Know When to Cuff ´Em
Cuffing your jeans is certainly not a new trick, but sometimes we forget that with just one turn of a hem we can, show off a little more shoe, instantly tailor a pant that is too long, or refresh an old favorite pair of jeans.
8 – Brooches
Our family has always had an affinity for brooches and have quite the collection. They aren't typically on your radar as a fashion accessory; however, I love to add them to basic jackets as an unexpected statement. I've pinned them to necklaces to create dramatic effects and also used them to cinch and drape a blouse.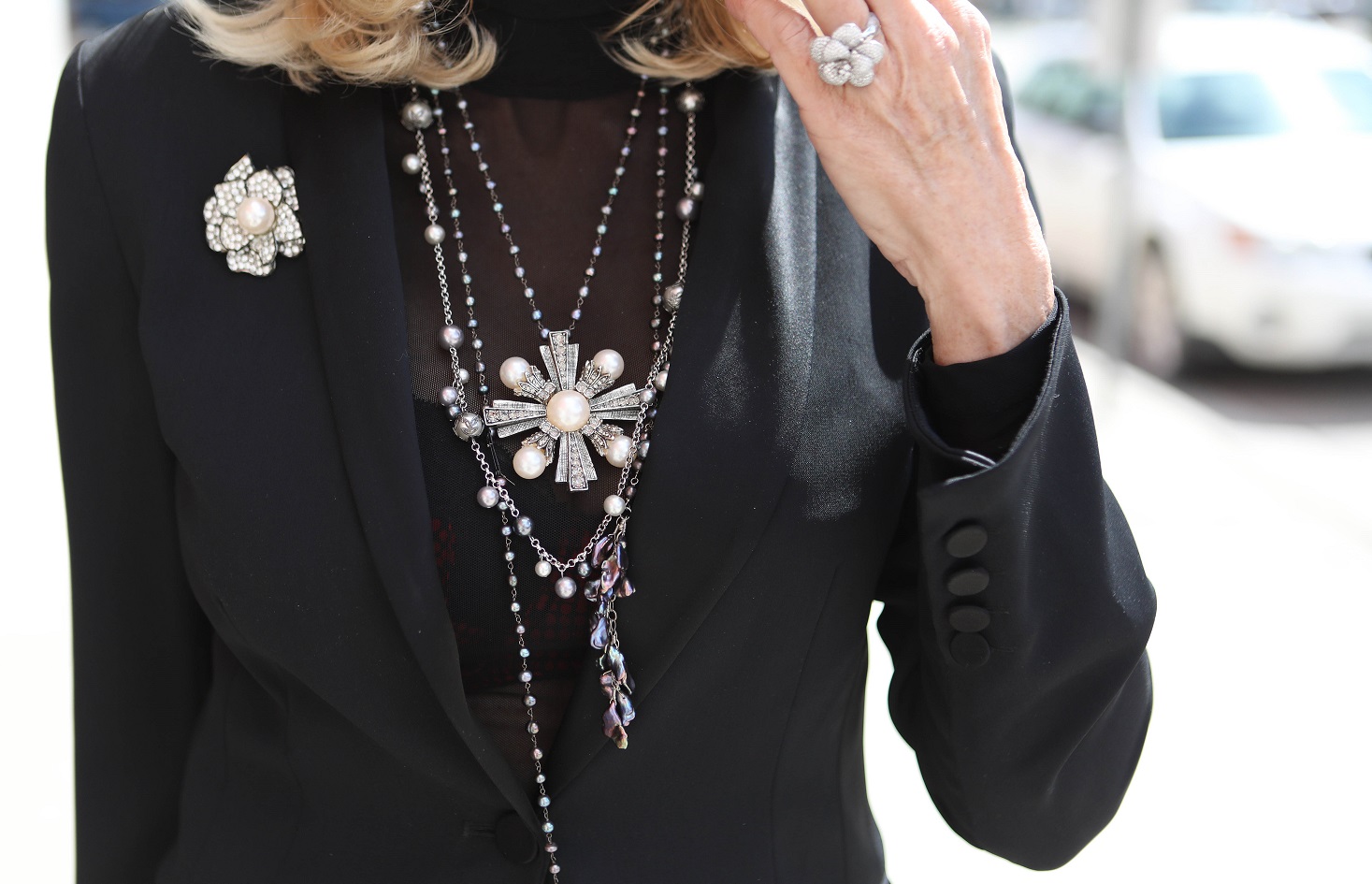 9 – Become a Nudest
Nude shoes should be a wardrobe staple for any fashionable woman. Not only do they flatter and elongate the leg, but they can also go with basically any outfit. There are two rules of thumb with nude shoes: Find the correct shade of nude for you, and don't forget to keep them clean!
10 – Tinker Tailor
Often what makes or breaks an outfit is the fit. Tailoring your clothes is a luxury that does not cost a fortune. With so many body types, we are hard-pressed to find clothes off the rack that fit ANY body perfectly and as it was designed. I work with a tailor to alter new purchases to fit perfectly as well as alter clothes in my closet to give them new life. A good tailor can also recreate your favorite looks in whatever fabric and color work best for you now.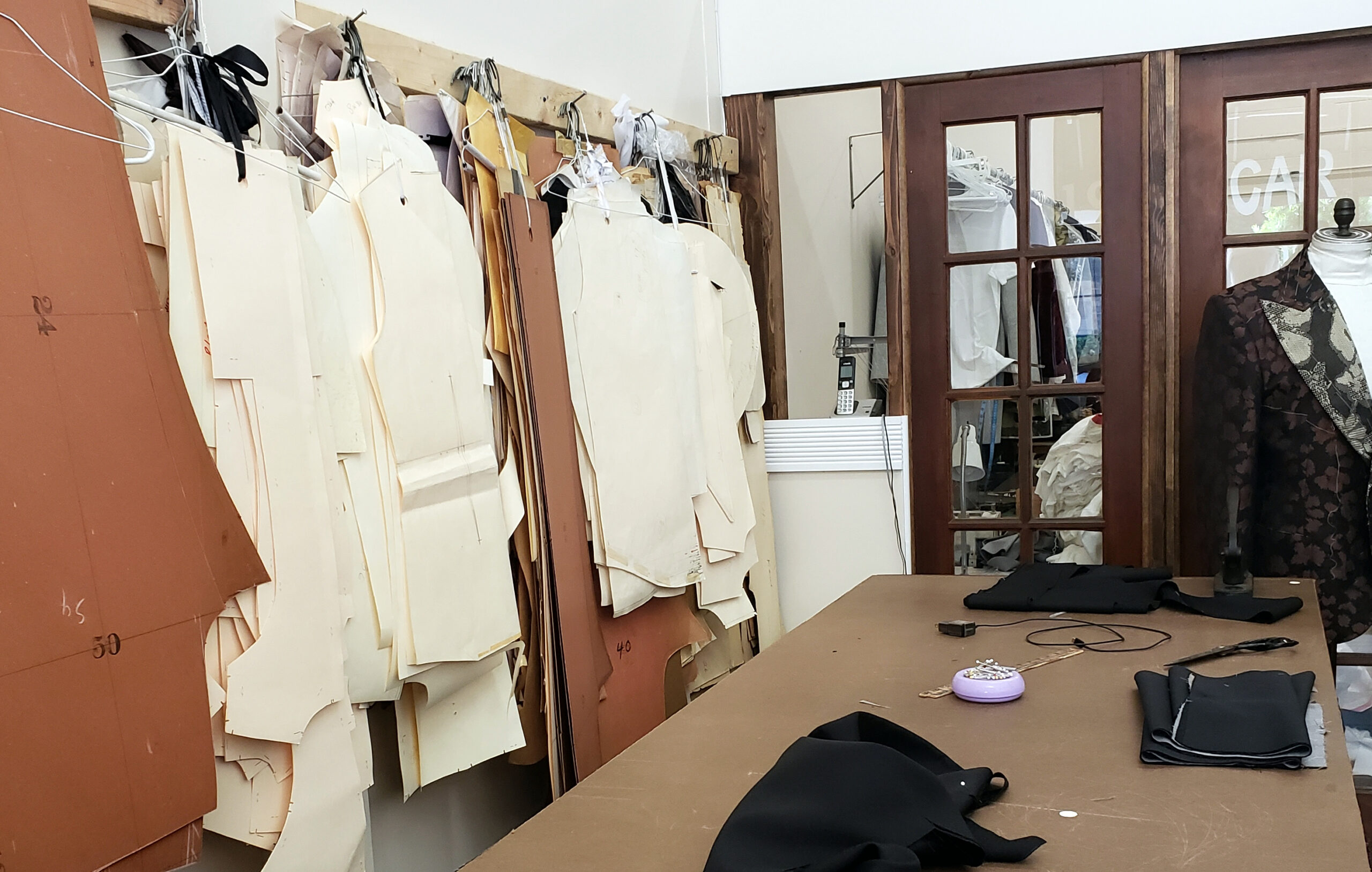 10 Styling Hacks to Try  
That wraps up today´s share; 10 simple, yet effective styling hacks, from our resident stylist, Serena,  to help you get creative with the clothes and accessories you have.
More from Style Beyond Age 
Catch up with the latest on the blog…