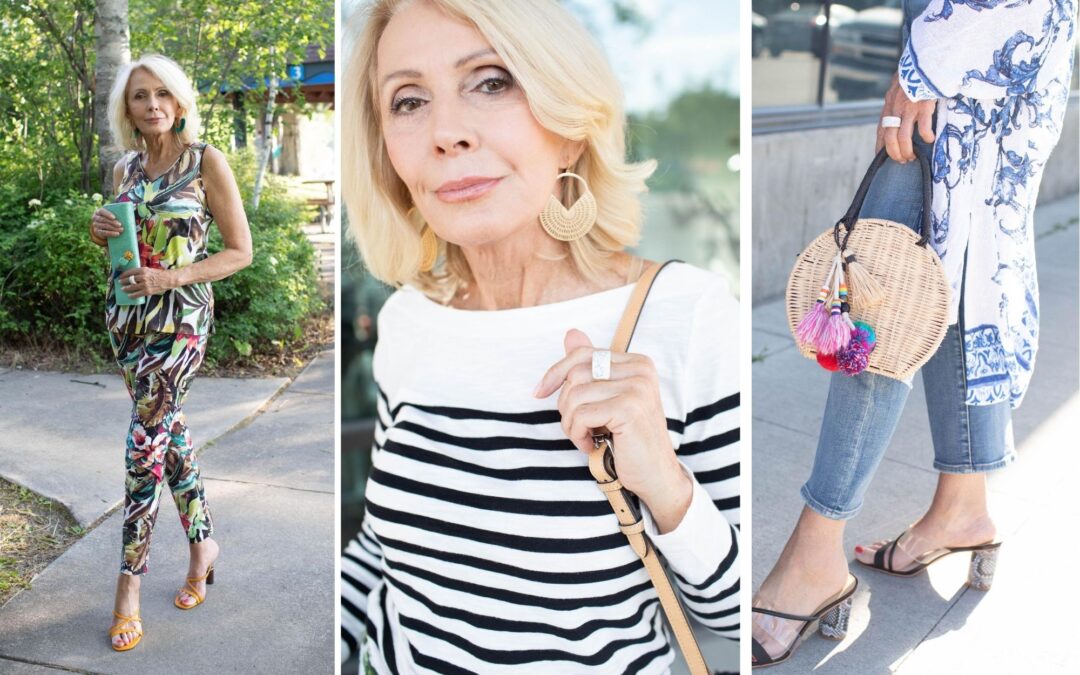 I thought we would lighten the mood and have some fun with fashion on the Style Beyond Age blog. Today I´m sharing how to wear prints and patterns at every age, to keep them looking stylish and avoid overwhelming your frame.  Let's dive into this styling session and see what we can create.
Well, I certainly got out of my comfort zone with this look and I'm so glad I did!
As I get older, I am noticing that I am now "petite". That means my height is shrinking, so being overwhelmed by prints would seem to be something to avoid. But, a pair of strappy heels and a confident attitude go a long way to feeling fantastic in a look like this. Bonus points for not having to think about coordinating anything, just pop it on along with your attitude and you´re ready to go.
This clutch has been in rotation for decades. It is actually an inexpensive one I found years ago. I embellished it with bits and pieces I couldn't quite part with. You have things like that don't you? They might hold a memory and might have been damaged through time.
The gold item is a button off a dress of my mother's, the turquoise stone came from a necklace that broke and the lapis was a worry stone I rubbed for ages (have you ever used one they are very popular in places like Greece). It cracked on a fault line so I added the silver top to hang it as a necklace and it ended up on this clutch.
The sandals are from
Zara
last year. Something about the color spoke to me and I am getting a ton of use out of them. Check the acrylic and wood heel. A perfect counterpart to the
Chico's bracelet
as luck would have it.
On the casual side. I finally found the
high-rise wider leg jeans
I was searching for and they are on sale at Chico's.  They are my summer go to.
Paired with an open front lightweight cardigan (you will love the stickler feel of this fabric) with a graphic tee for an unexpected twist! This from our resident stylist @evokeserena
Again a bit of a heel for an elongated look –  check the animal print on the heel I found these by Dolce Vita at
TJMax
!
The straw bag is from @targetstyle embellished with pompoms for a pop of color. ( I must be into decorating my bags).
Check the ring from @lovechicos. They have the best accessories every time.
Prints and Stripes
Another fantastic Chico's look.
Do you think of pairing prints and stripes? It is a formula that works perfectly almost every time. When you think of fashion outside the box this would be something to try.
We all have that striped T in our closets, so just pull it out, run it across your prints and see what catches your eye.
Styling Tip:
The key here is to keep it in the same color scheme – in this case navy.
This Chico's palm print linen pant is just the ticket for hot summer days. It doesn't bind like jeans do and it's a great alternative to shorts.
Until we show thispicture I didn't notice the bottom of this @patricianash bucket bag. So cool!
The shoes are @colehaan. They work with this look but honestly they are too clunky for my taste and hard for me to walk in, however, they seen to be all the rage. You get height without a true heel just a flat platform, so they may work for you.
Well look who is wearing eye makeup and lipstick. That's a lot for me! But we are here for fashion so check these
Chicos earrings
. Light as a feather and I am wearing them on repeat. This
stone ring
 is from them as well. It will go with everything and it's on sale!!
Thank you to
Chico's
for the great items at great prices.
Thank you Hope @hkcameraface for the photography.
Catch up with the latest on the blog…