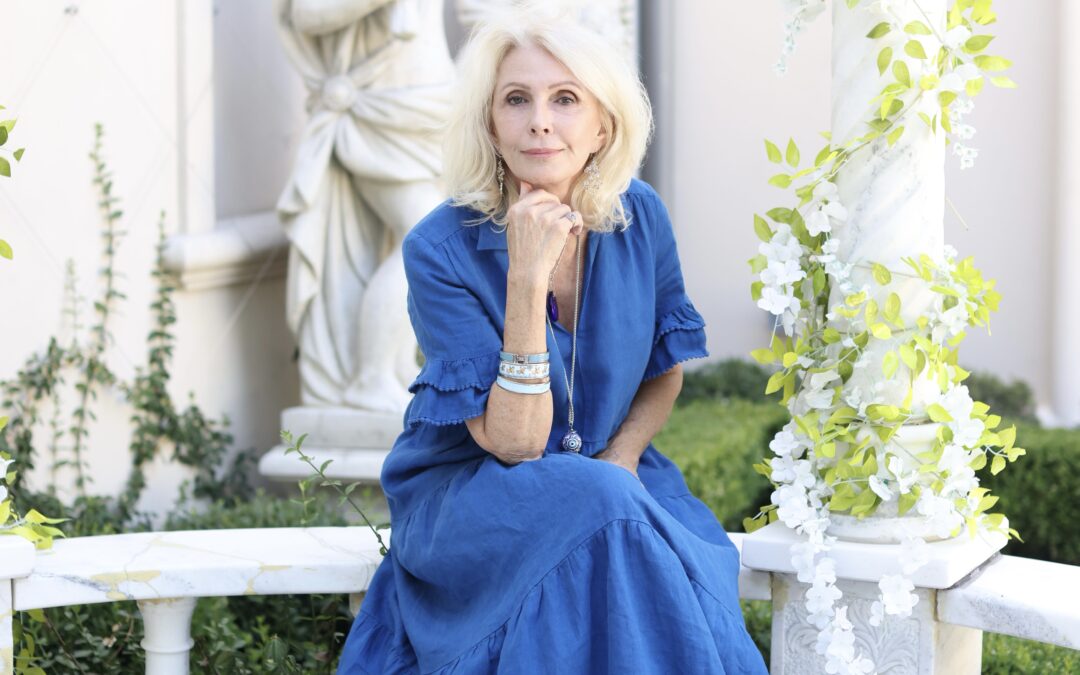 Do you ever feel like you're stuck in a styling rut? You know, like wearing the same thing over and over again because it's comfortable and known. Everyone has a fashion comfort zone, but sometimes we need to switch things up. If you're looking to experiment with some new looks, take a look at some of my favorite summer fashion choices.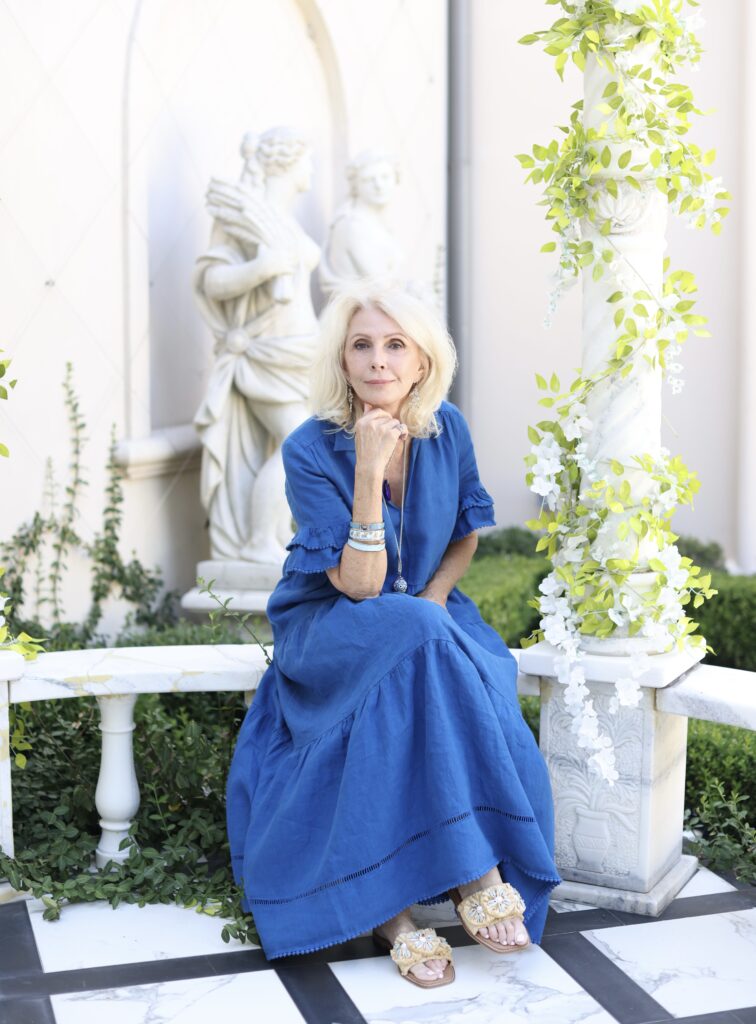 Linen Sundresses
Moving to a hotter climate has made me rethink my summer style. Being Petite always made me lean toward more body-con styles in neutral colors. But, I can learn new tricks. This Belladonna Blue Tiered Linen Sundress by Chicos was a happy change for me. I love that the relaxed silhouette still offers a subtle feminine touch.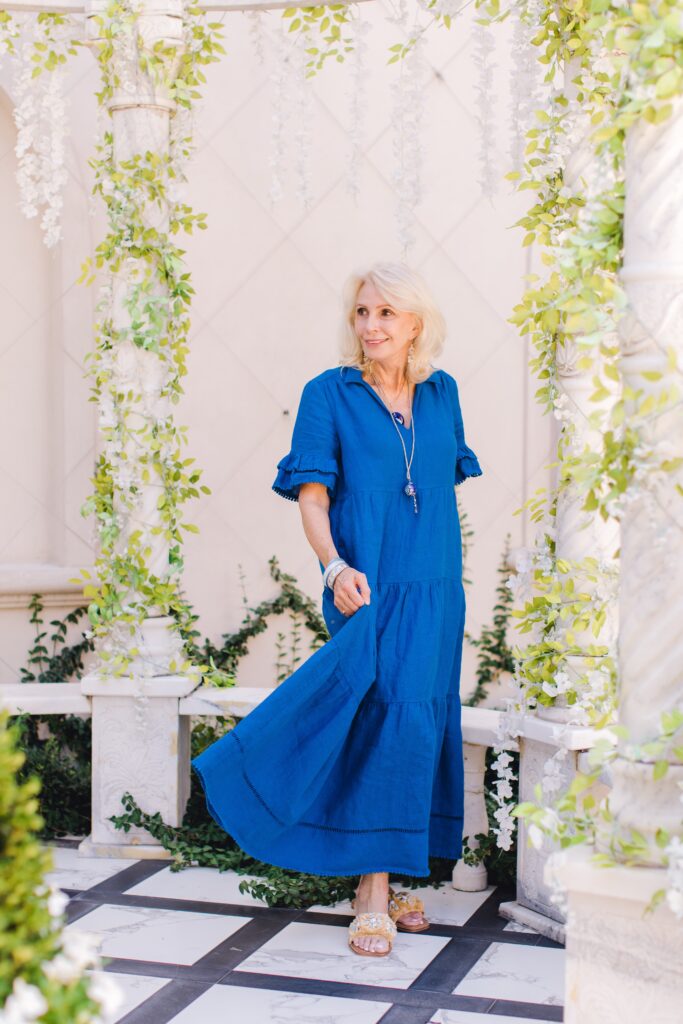 Pretty sleeve details and eyelet trim gives this dress special appeal and the collared V neckline helps to create an elongated appearance. It features an A-line maxi skirt and has front pockets and three-quarter length ruffle sleeves. Plus, it's made of washable 100% linen and comes in petite sizes. This is a dress that will make you feel beautifully feminine and comfortable at the same time.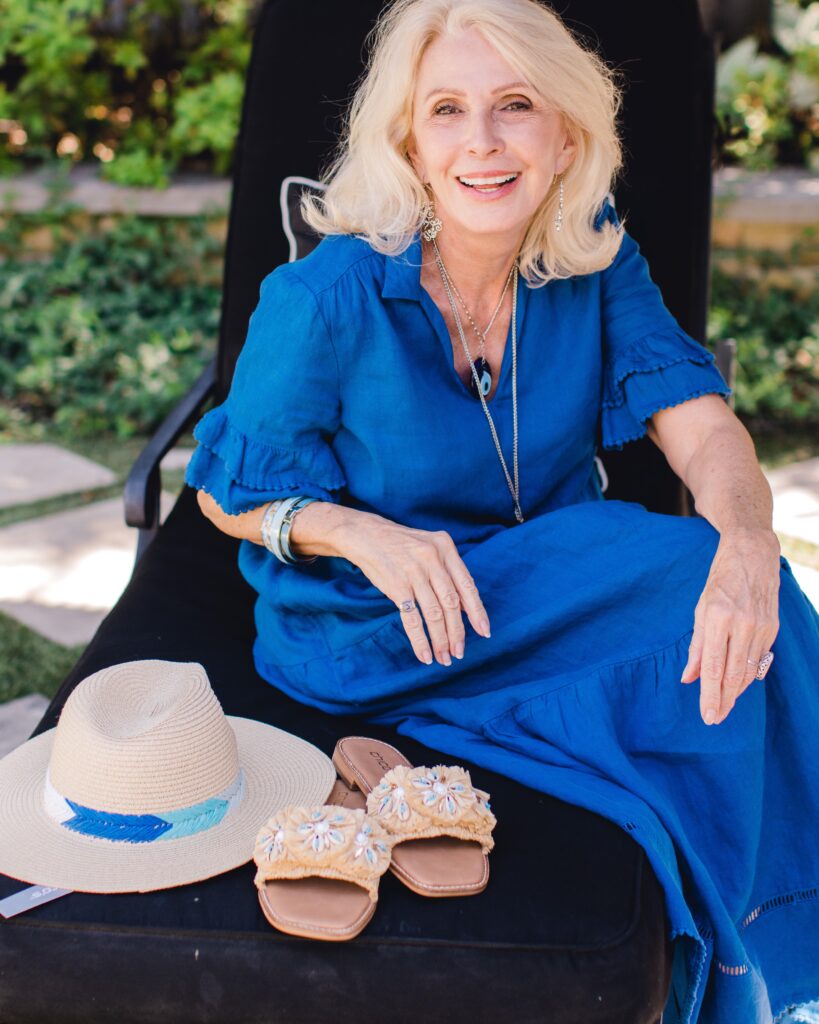 Accessories are an important factor when it comes to summer fashion, and Chicos has some of the best options. These beachy seashell slides and brimmed summer hat compliment the look perfectly. Feel free to play around with long and short necklaces, this neckline is perfect for both.
Neutral Summer Fashion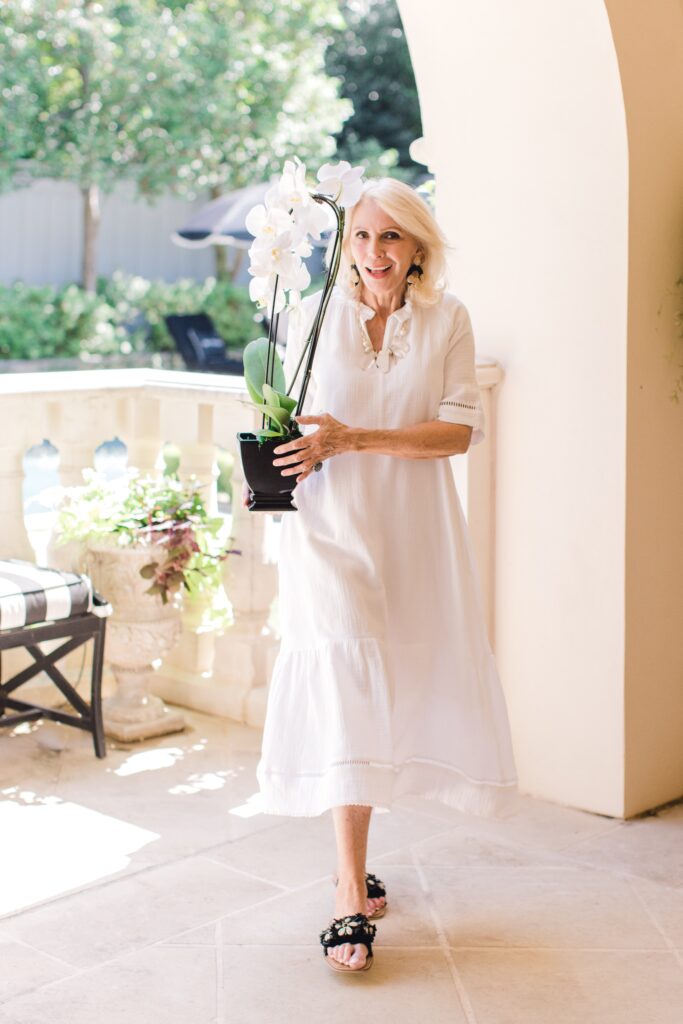 Back to neutral ground but still trying something new, this Flutter Sleeve Midi Dress from Chicos checks all the boxes. With details like this beautiful eyelet trim and fringed hemline that is just the right length. The elbow sleeves are perfect for arms of a certain age and it features the popular addition of pockets. Plus, check out these stunning black seashell slides, they just might be my favorites.
Regarding arms at a certain age. I am shocked that even with all my working out, the texture of my skin is deteriorating. When I was younger (in my early 60s) I thought all we had to do was work out to solve the problem. This is something that we all should do on a regular basis, but it's really about the skin texture. There are many options that I have tried and they're all worth a shot. I have even had "Needling" done to wake the collagen up, it's certainly an ongoing battle.
Functional Dresses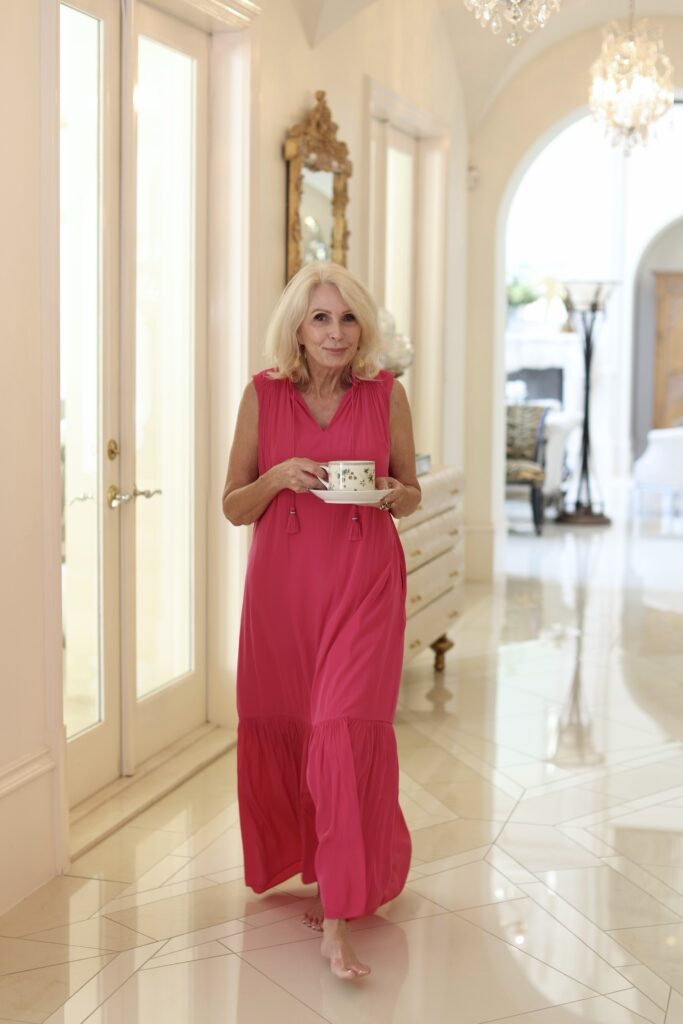 I love functional dressing, one dress with several looks gives me so much joy! A great deal of that is because I like having a small footprint. As you know from previous blogs, I am a carry-on only kind of gal (for tips on packing light, check out my blog post here).
This Modern Peasant Maxi Dress by Chicos is made of soft, lightweight material that flows as you walk. It features a beautiful tassel tie neck detail that adds a classic touch to this otherwise contemporary design.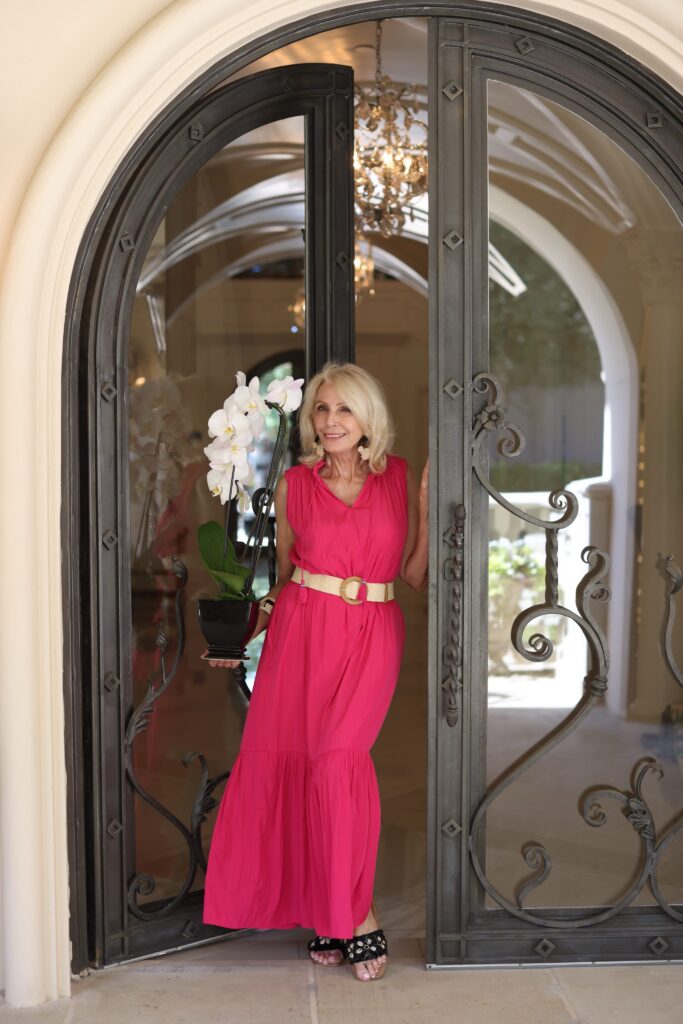 For a more form-fitting look, I cinched it with an organic belt and complimented the look with raffia hoop earrings and black seashell slides. Have you noticed these slides go with everything? Presto afternoon out on the town!
Modern Prints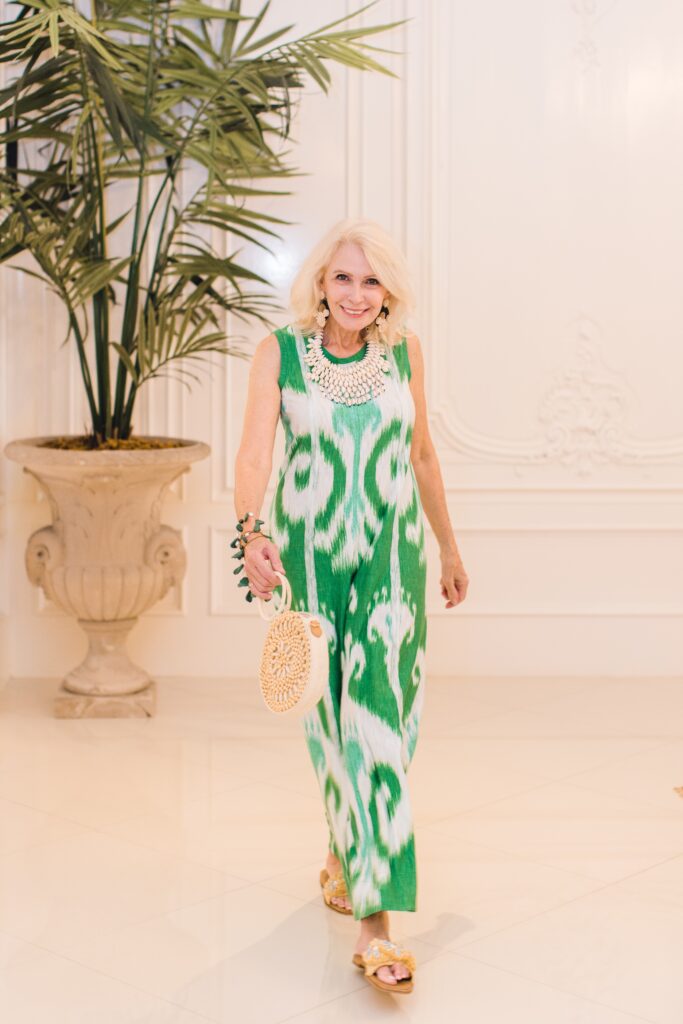 Green is the color of the season and this Ikat print is so modern. Notice how the print placement gives the impression of more height. I styled this elegant outfit with a shell bib necklace, neutral seashell slides, and raffia earrings.
STYLE NOTE: When wearing a bib necklace like this one, make sure that it's up high enough to cover the neckline of the dress. You want it to look as if it was part of the dress design. This picture does not depict what I'm getting at, but it's something to keep in mind when styling an outfit. Don't be afraid to wear your jewelry in different ways. For example, here I have a necklace around my wrist as a bracelet. One thing that I love is finding multiple uses for a piece of jewelry.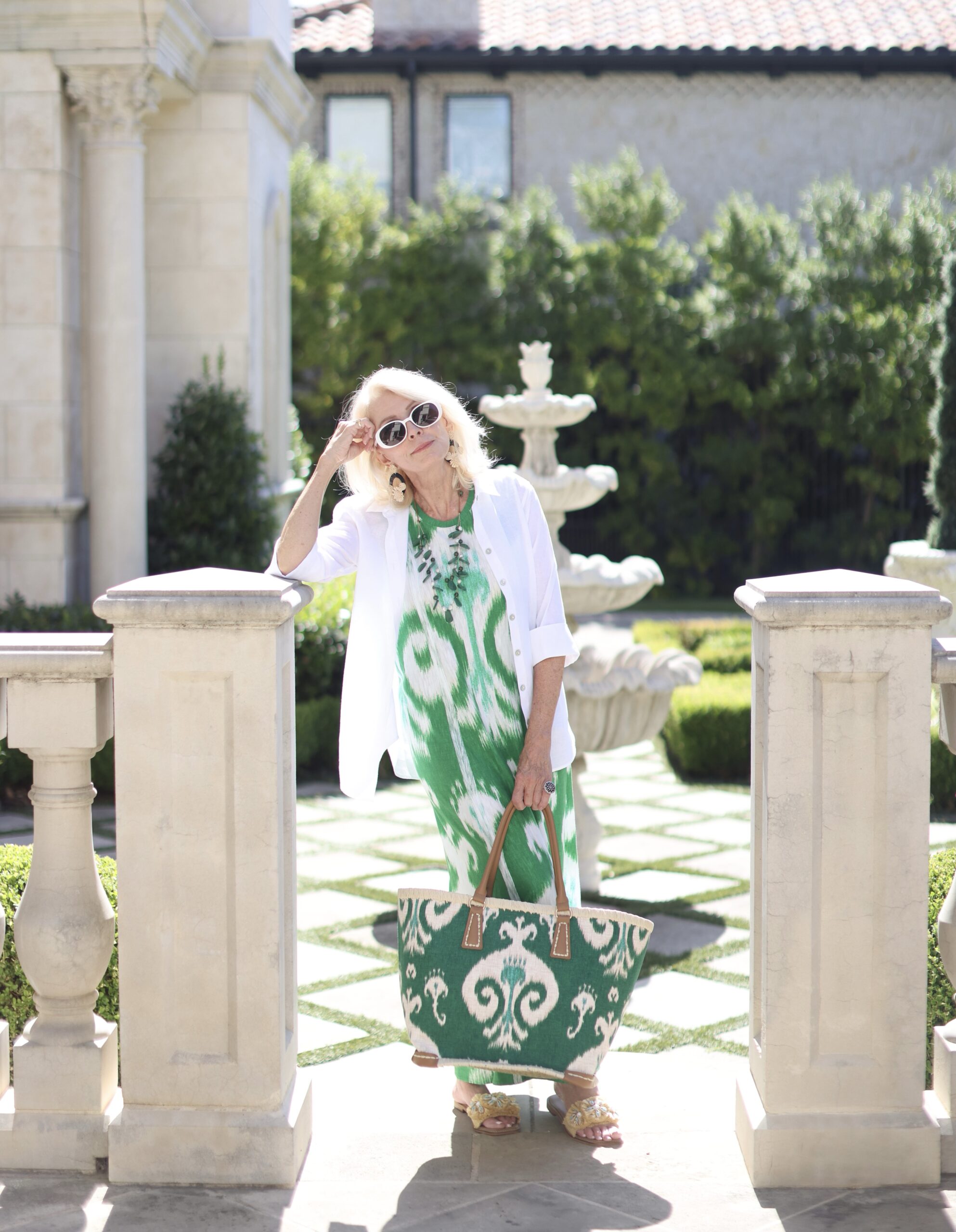 I am definitely serving up some attitude in these photos but truthfully I am always happy when I'm in my favorite linen no-iron shirt. I have purchased it in multiples from Chicos and it is the perfect over-anything summer cover-up. You've probably seen me post this quite often on my Instagram account, as it's a perennial favorite. I styled it with the necklace I previously wore as a bracelet, the same cute earrings, and my white sunglasses that I never leave home without.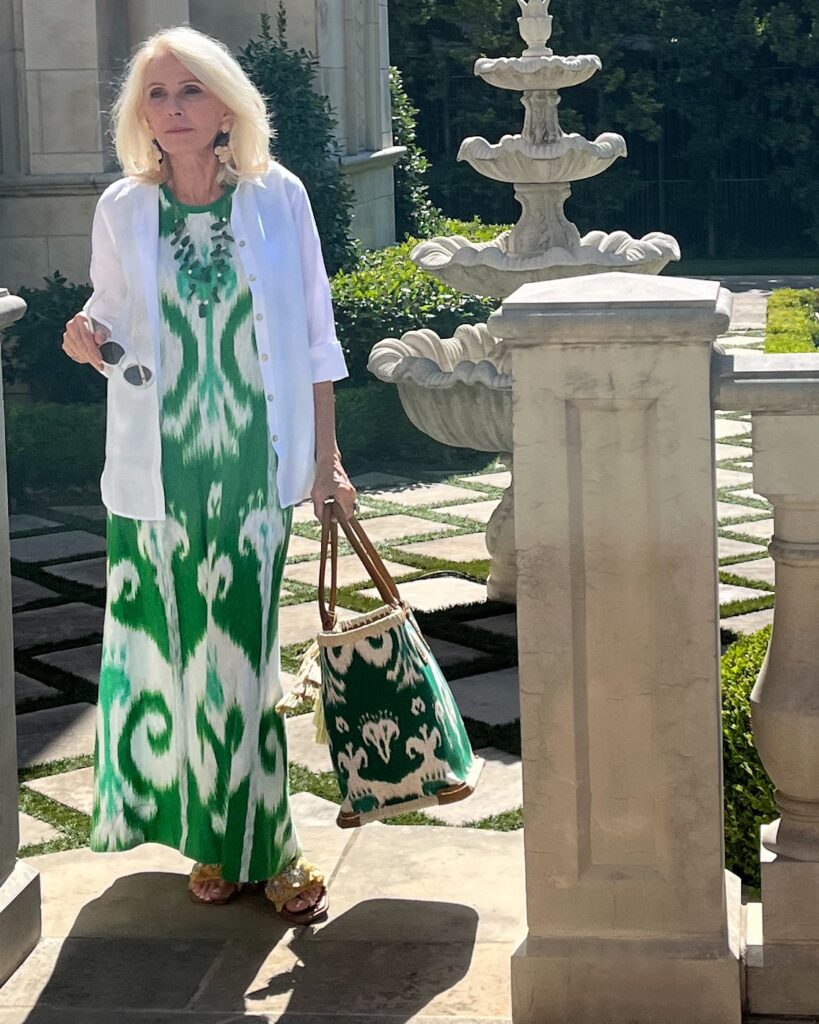 There that's better, maybe my attitude was hiding in this great tote. It holds everything and is the perfect summer fashion accessory. This outfit is an ideal choice whether it's for a fancy dinner out or a pool party the next morning!
One of the best ways to develop your summer fashion style is to look for inspiration. Whether it's in a store like Chico's, from a friend or fashion icon, on social media, or even from a blog like this one, you can find a style that speaks to you. I hope you found some inspiration in this post and that it encourages you to experiment and have some fun with fashion. You'll never know if you like something until you give it a try.
.