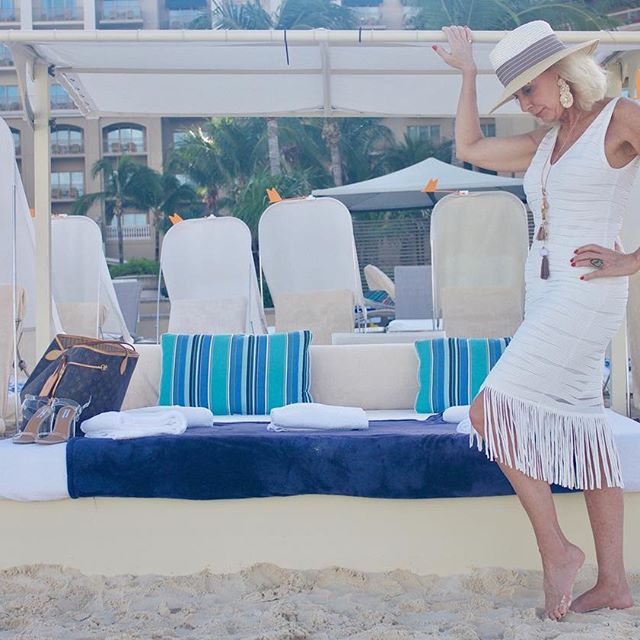 I love to pack for a trip! It's part of the fun of traveling!  Now, I don't know how many people can say that, but for me, it is the beginning of the adventure, I also pride myself on rarely checking luggage.  The eagerness of going right out the airport doors and getting on with the adventure is worth all the preplanning. With that in mind I have a few tips that might help.
Decide on a color palette
A few weeks ago, Beth @styleatacertainage was commenting about taking clues from the colors in any scarf when wondering what to wear.  Good advise.  In this case I took a wonderful Lotta Stenssen Kaftan as my inspiration and ended up choosing a cobalt blue and coral red combination.
Travel comfortably but look stylish
I Always travel in jeans a T shirt and a coat or sweater and  scarf .  In this case I will  be going into a chilly city and then on to the islands, so I choose dark jeans a white T and a tomato red trench and a colorful scarf.
Take  multi- purpose clothing
Slip dresses are a saving grace and can go from beach cover-up  to dinner with a  quick change of shoes and earrings.
Loose pants and a blouses or Tee's are light to pack and can go from breakfast to  the market or the beach.
Bathing suits and scarves. I always overpack these. One piece suits double as body suits scarves as sarongs. Swimwear addicted!!!
Shoes take up a lot of space so think these out carefully.
If you are taking sneakers make them light and travel in them. Slides. In this case flats in Denim.   Heels!  A splurge really but worth it even if I don't use them.
Cosmetics. Here you have to take small jars, that goes without saying. I have a very simple routine so that takes up little space. Sunblock, night cream, day  cream. That's it.  A bit of eye  makeup and lipstick and I'm out the door.  My hair on the other hand is usually …. well I'm bored  just thinking about it.
Jewelry. Don't forget this. It can take a simple look and polish you up.
Don't forget the perfume.  In this case I'll take Vetiver from Le Labo.
Remember your color palette everything has to go with everything. I take a carry on and a large tote with my purse inside it.
My routine a week before I leave is this.  I take out a rolling rack or go to the spare room closet and start choosing items and moving them over.  I take everything that inspires me, is in the right color palette, or just speaks to me.  I don't judge (yet).
After that I start adding and omitting and making a list of what is missing.  Over time I end up with about a third of what I originally brought in.  Don't worry about being without something.  In the end I wear about two thirds of what I'm taking and I'm never lacking.  You will see how empowering it is to go relatively unencumbered and still
Look Fabulous .