Taking care of your skin should be a priority, especially when it comes to combatting the signs of aging. I've always been of the mindset that you need to start early and consistently! With so many skincare products available, it can be overwhelming to find the right ones for your specific needs. Luckily for us, Colleen Rothschild has a beautiful line of best-selling beauty products that I am testing out. As far as I can tell the results are visible!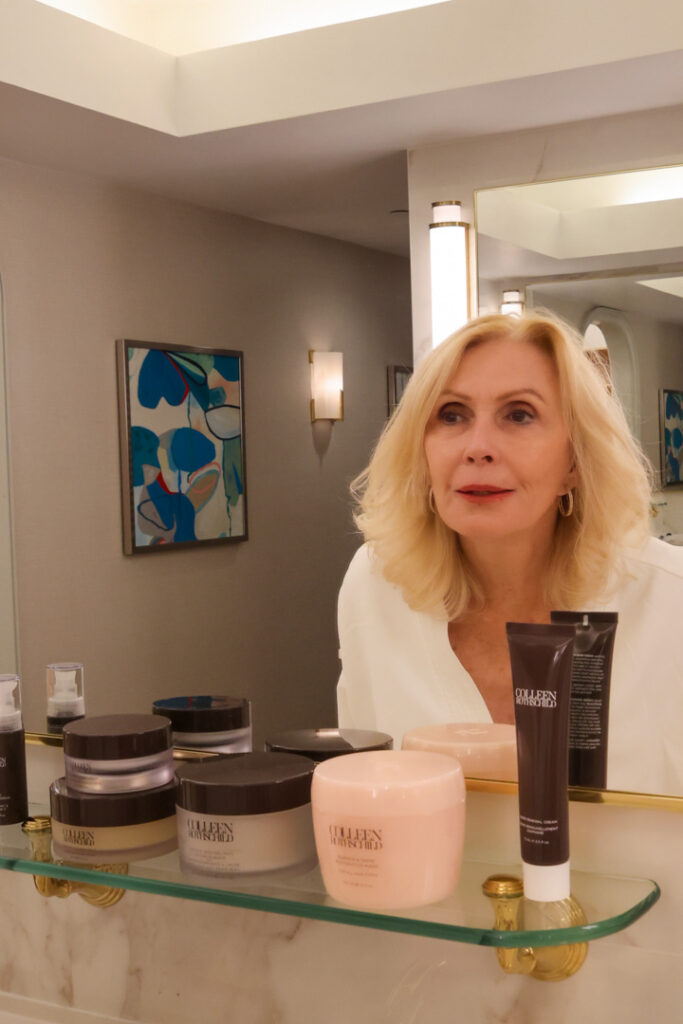 Let's explore the benefits of using Colleen Rothschild beauty products in your skincare routine and guide you through the correct order of application for optimal results. We will also delve into key ingredients, such as Vitamin C and Glycolic Acid, and explain why they are crucial for maintaining youthful and radiant skin.
To Cleanse or not to Cleanse?!
There are differing opinions on whether or not you need to wash your face in the morning if you have already washed and prepped your skin the night before. It is a matter of personal preference really. Some Doctors recommend just a rinse and others maintain the opinion that you should use a gentle cleanser in the morning.
Cleaners
If you do choose to wash in the morning you may want to try a gentle cleanser like Colleen Rothschild's Radiant Cleansing Balm. This particular cleaner is so luxe, that it leaves your skin renewed and glowing. If a rinse is more your thing you can try a toner like CR's Matcha Tea Treatment Toner or a simple rise of water.
Ice Bath Facial
I personally like the idea of waking up in the morning with an ice bath facial. We've talked about the benefits of ice baths for your whole body, but starting your day with an ice bath for your face is an exhilarating way to start your day. If you want to step it up a little bit more you can make your ice cubes with green tea or aloe vera depending on what your skin calls for.
Morning Skincare Routine: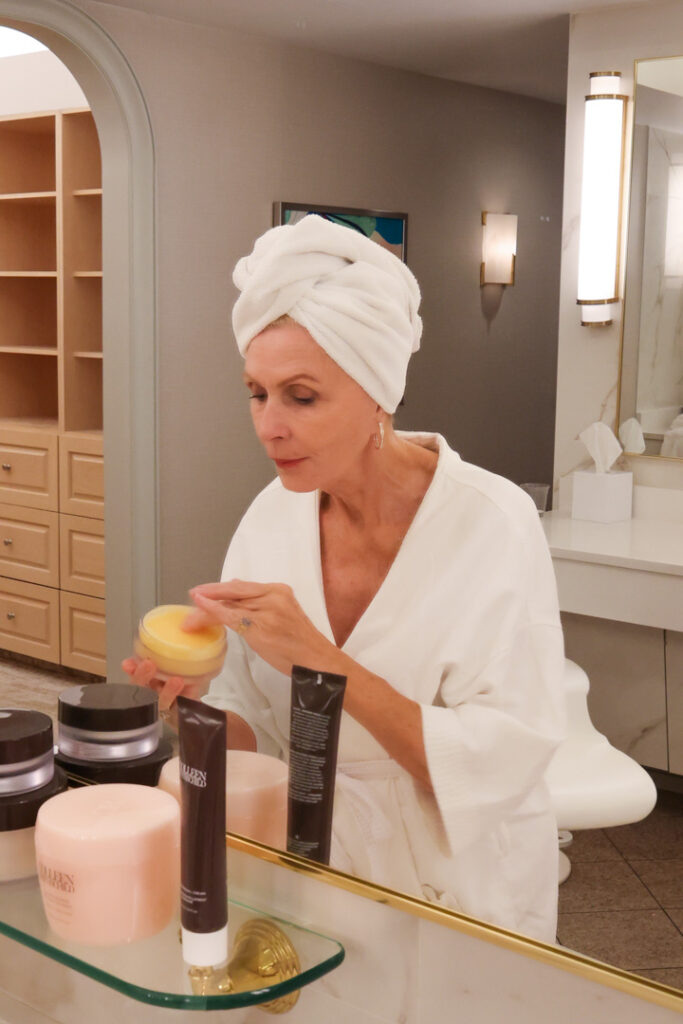 Cleanse: Start with the Radiant Cleansing Balm to remove impurities and makeup.
Vitamin C: Apply a few drops of the Vitamin C Brightening Serum to your face and neck. Gently pressing it into the skin.
Hyaluronic Acid: Follow with the Hyaluronic Acid serum, massaging it into your skin to boost hydration.
SPF: Finish off by applying the Triple Defense Sunscreen Broad-Spectrum SPF 40 sunscreen to protect against harmful UV rays.
Evening Skincare Routine: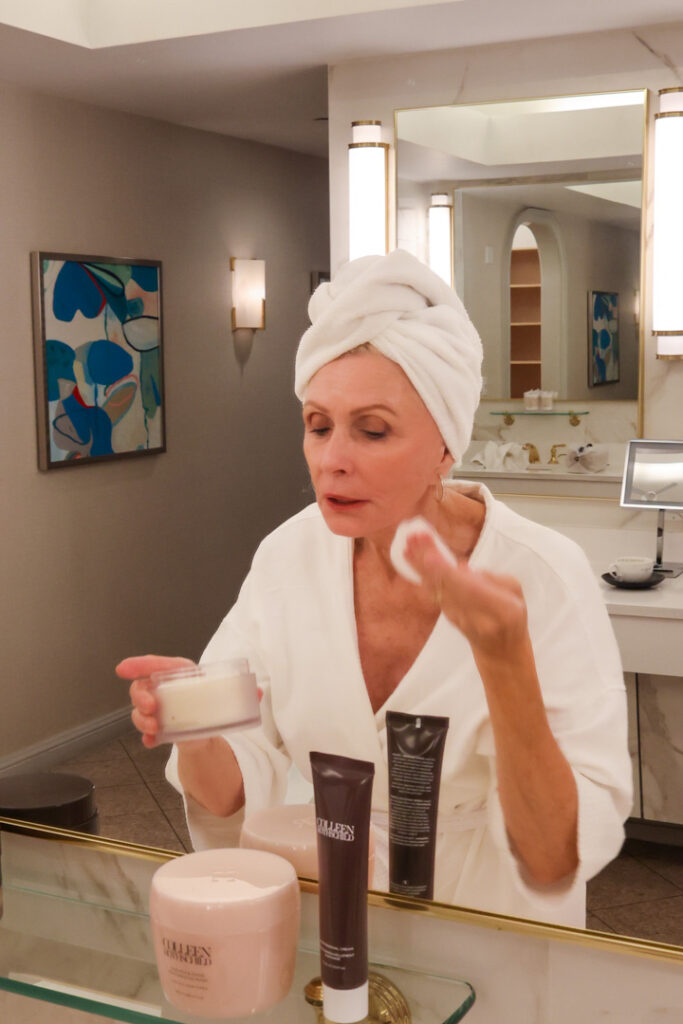 Cleanse: Be sure to thoroughly cleanse your face in the evening. My esthetician recommends DOUBLE cleansing at night to be sure your face is squeaky clean before applying your evening products. We like Balancing Gel Cleanser to make sure all of the day's impurities are removed.
Hyaluronic Acid: Apply the Hyaluronic Acid serum to hydrate and plump your skin.
AHAs or Retinol: Glycolic Acid Peel Pads with Blue Agave. Gently sweep one peel pad across your face, neck, and décolleté to exfoliate and promote cell turnover.
Niacinamide: Finish by applying Extreme Recovery Cream to improve skin elasticity, minimize pores, and even out skin tone.
Conclusion:
By incorporating Colleen Rothschild beauty products into your skincare routine, you can achieve radiant and youthful skin. Remember to follow the correct order of application! Focus on key ingredients like Vitamin C, Glycolic Acid, Hyaluronic Acid, and Niacinamide for ultimate anti-aging results. Also remember, consistency is key. So maintain a morning and nighttime routine tailored to your skin type and needs, and embrace the transformative power of Colleen Rothschild beauty products for a more youthful and glowing complexion.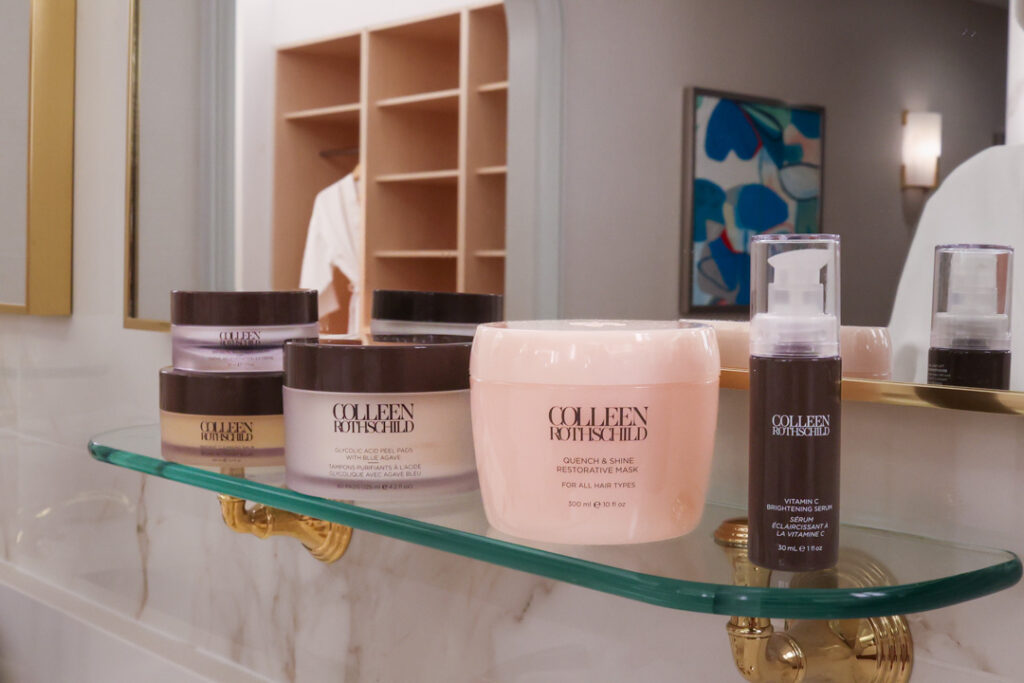 Achieving youthful skin is important, but you'll also want to keep your hair looking youthful as well! For some of my favorite hair products, check out my blog post here.
Disclaimer: The information provided in this blog post is for educational purposes only and not intended to replace professional medical advice. Always consult with a dermatologist or skincare professional before starting a new skincare routine.