Has your hair texture and volume changed in your 50's, 60's, 70's, and beyond? Enter the Meaningful Beauty hair product line by Cindy Crawford!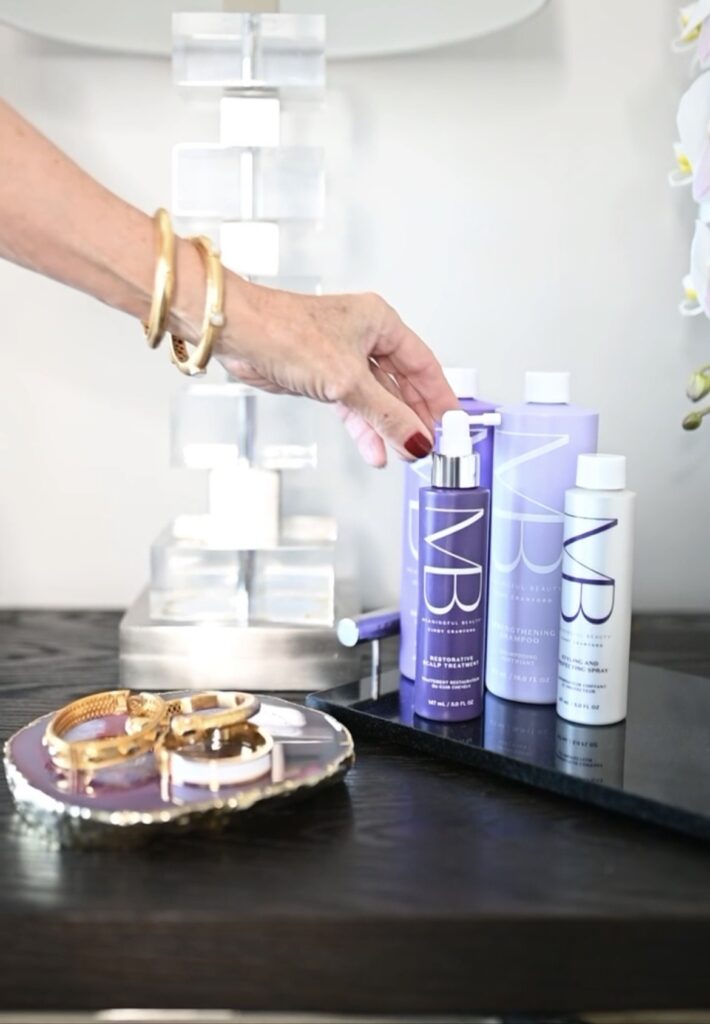 As we age, natural processes such as genetics and hormone change can lead to thinning hair. Between dullness, dehydration, breakage, and brittleness it seems like a never-ending battle. But just because that might be happening to you, does not mean that you have to accept a lifetime of thinning strands – there are some great ways for us to get thicker fuller hair even at this stage in life!
In this blog post, I'll dive into the actionable steps one can take to get thicker, fuller heads of hair despite the common challenges we all have. It's all thanks to Meaningful Beauty.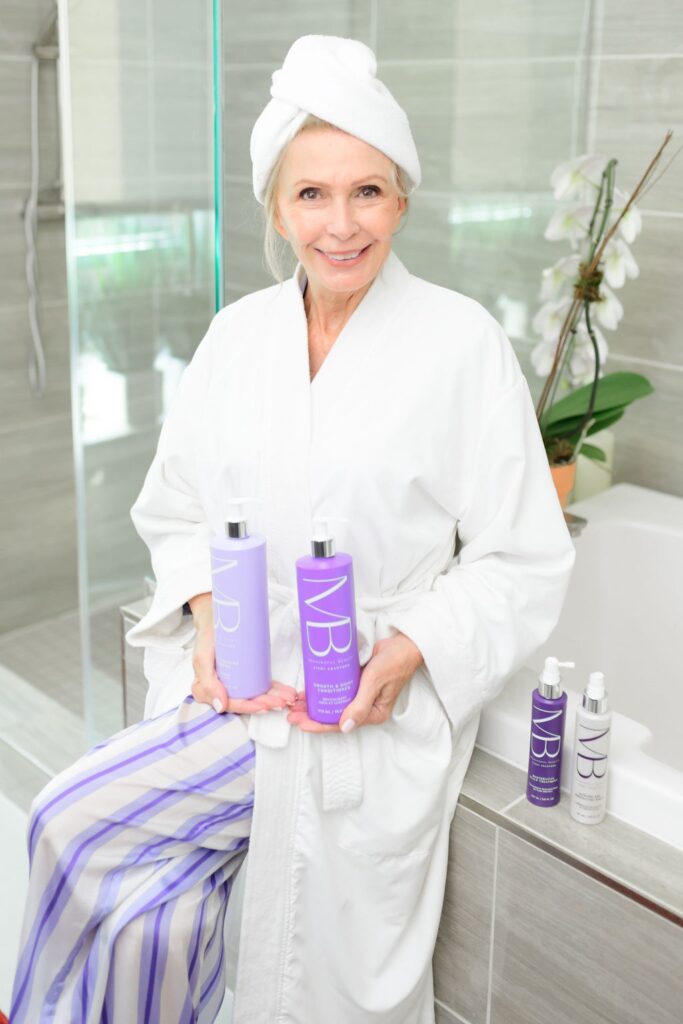 Meaningful Beauty Products
With a scalp treatment, shampoo, conditioner, and styling protector, the science of hair care has advanced tremendously and Meaningful Beauty products are on the cutting edge.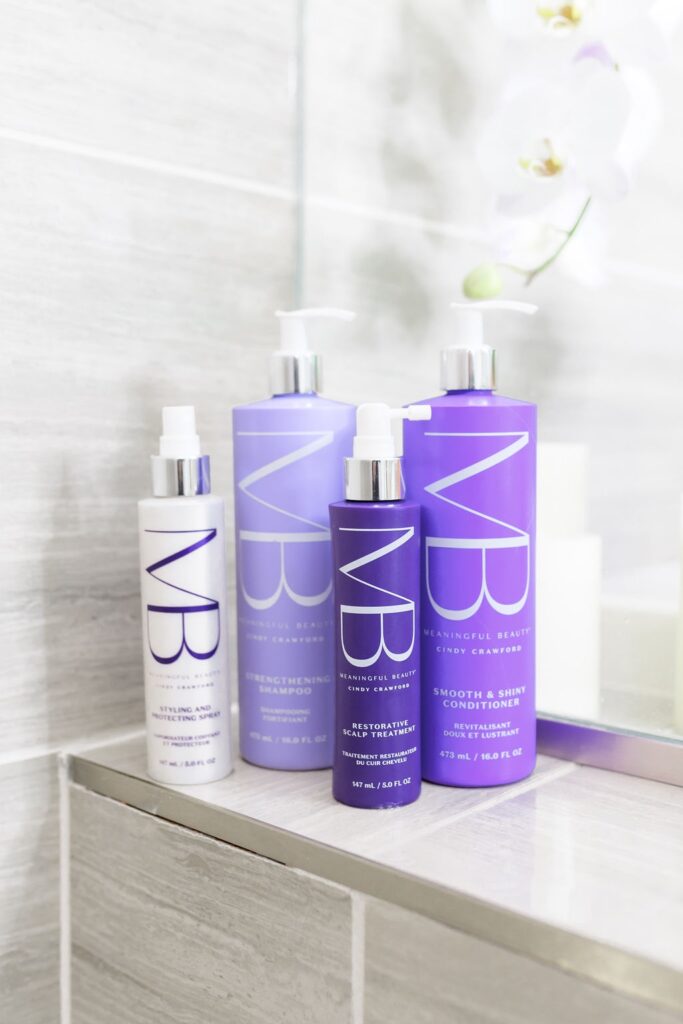 The Meaningful Beauty 3-step Age-Proof Hair Care System includes a shampoo and conditioner that are gentle on your hair and a restorative scalp treatment that encourages a healthy environment for healthier, shinier hair. The line is formulated with the brand's proprietary melon leaf stem cell technology that started it all…, Meaningful Beauty system is a game changer!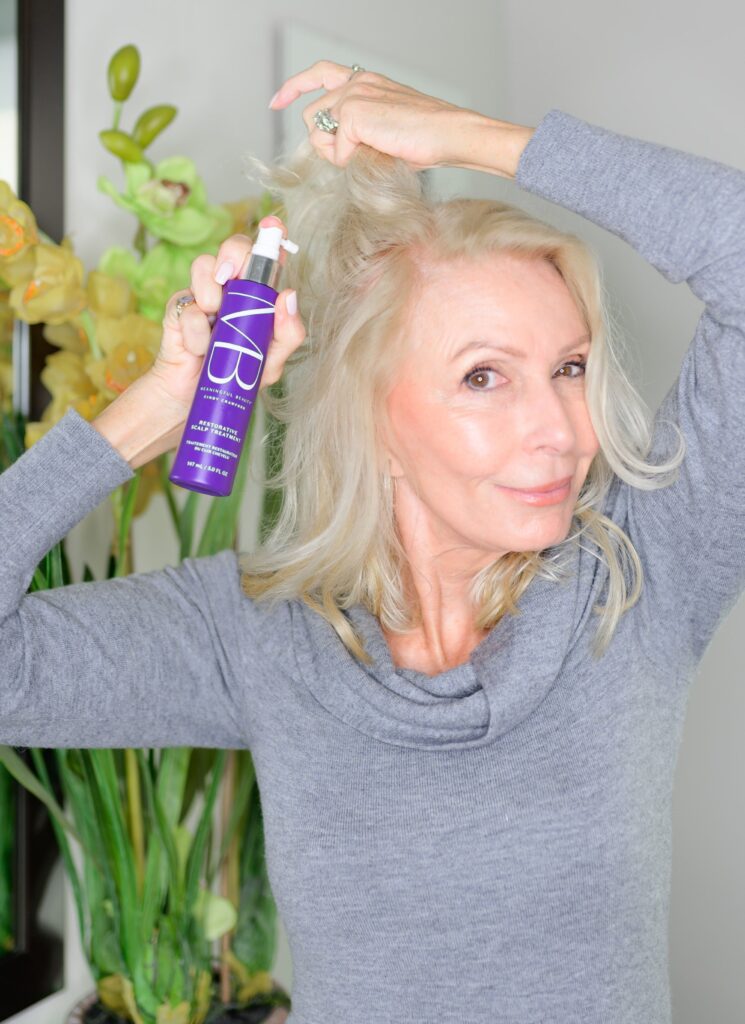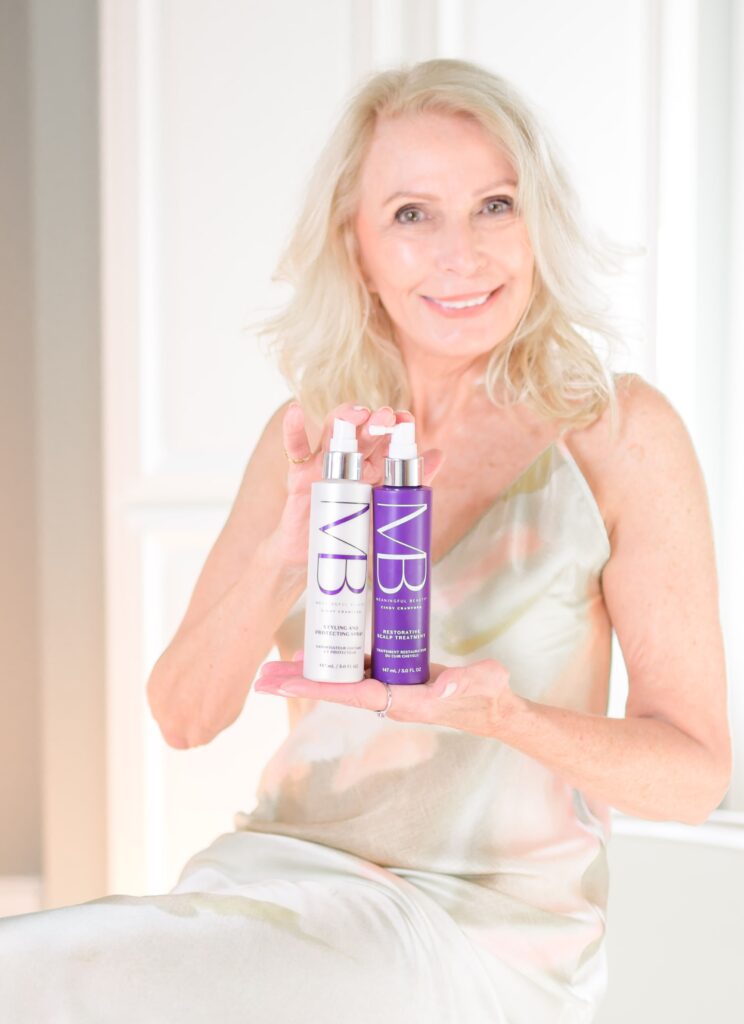 The hero of this set, the Meaningful Beauty Scalp Treatment, I use nightly. It includes vitamin H, castor oil, peptides, a plant-based alternative to keratin, and a natural wheat protein to keep your hair thicker-looking, stronger, and full of volume.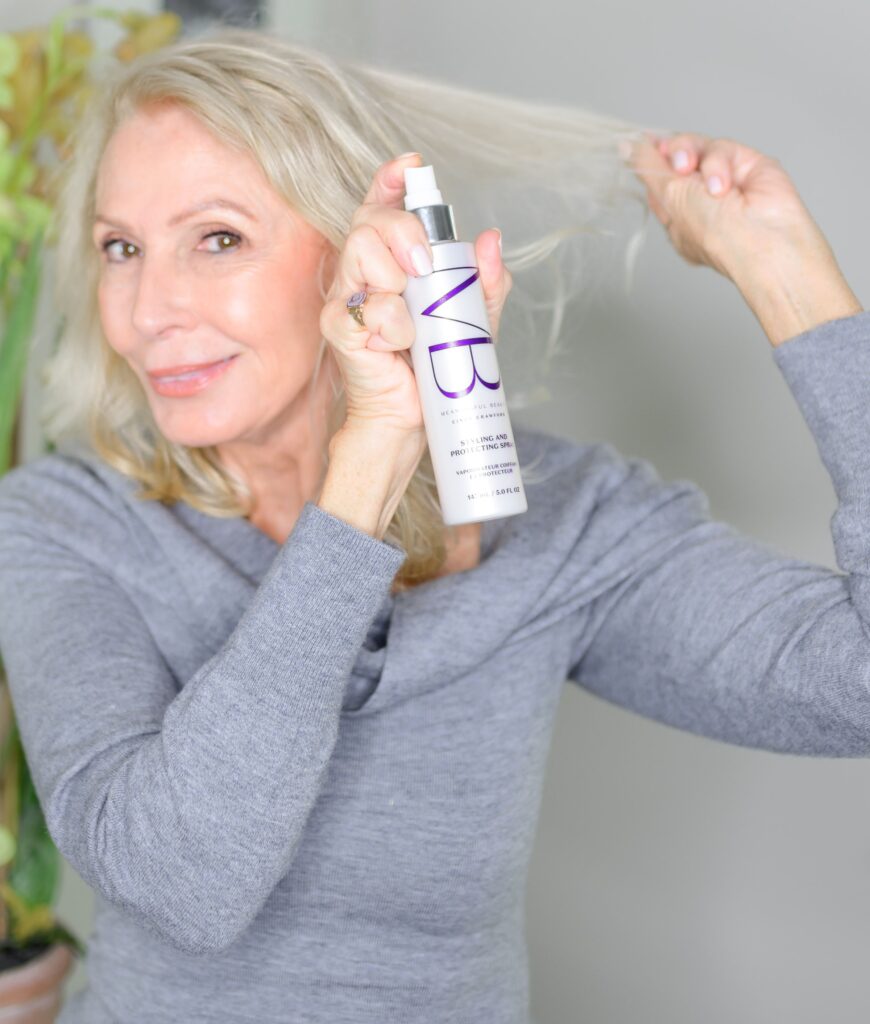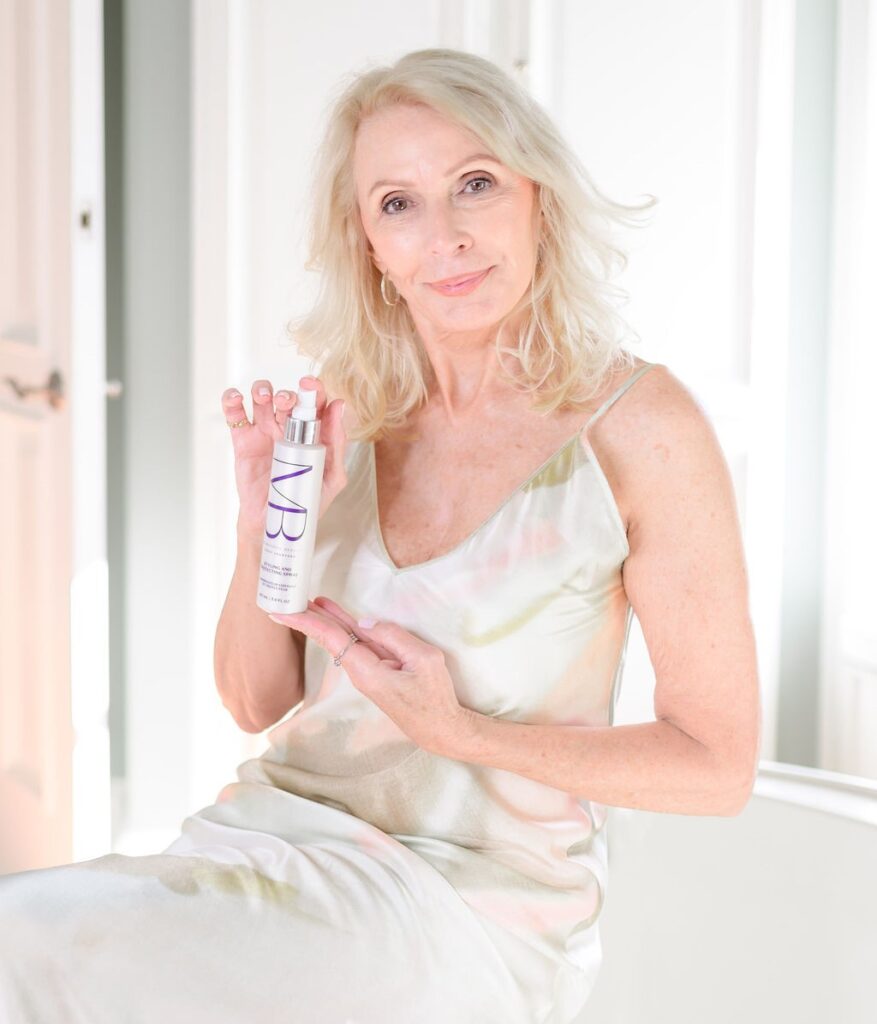 Above all, don't forget the styling and protective spray! However, it's actually much more than that.
It's a four-in-one primer that detangles, conditions, smooths, and protects the hair from heat. Vegetable proteins strengthen the hair and conditioning agents add shine.
My hair is what gives me the most confidence. When I have fluffy, bouncy hair I know my day is going to be just fine. I don't have to be well-styled or even wear makeup, my hair is what sets the tone. Do you feel that way? To get that I have been using the scalp treatment to great advantage, which also nourishes hair follicles and replenishes vital amino acids to moisturize and revitalize the scalp.
To sum up, do yourself a favor and try the incredible Age-Proof Hair Care System from Meaningful Beauty. Now my hair is healthier, thicker, and shinier than ever! It makes my day.
Also, it has encouraged me to grow my hair a bit longer, past my shoulders actually. I'm thrilled!
3 Piece Age Proof Hair Care System: https://mbty.co/v1k
Shampoo: https://mbty.co/86k
Conditioner: https://mbty.co/d5j
Scalp Treatment: https://mbty.co/e0x
Styling & Protecting Spray: https://mbty.co/zil
For more tips on how I take care of my body and health, check out my blog post here!