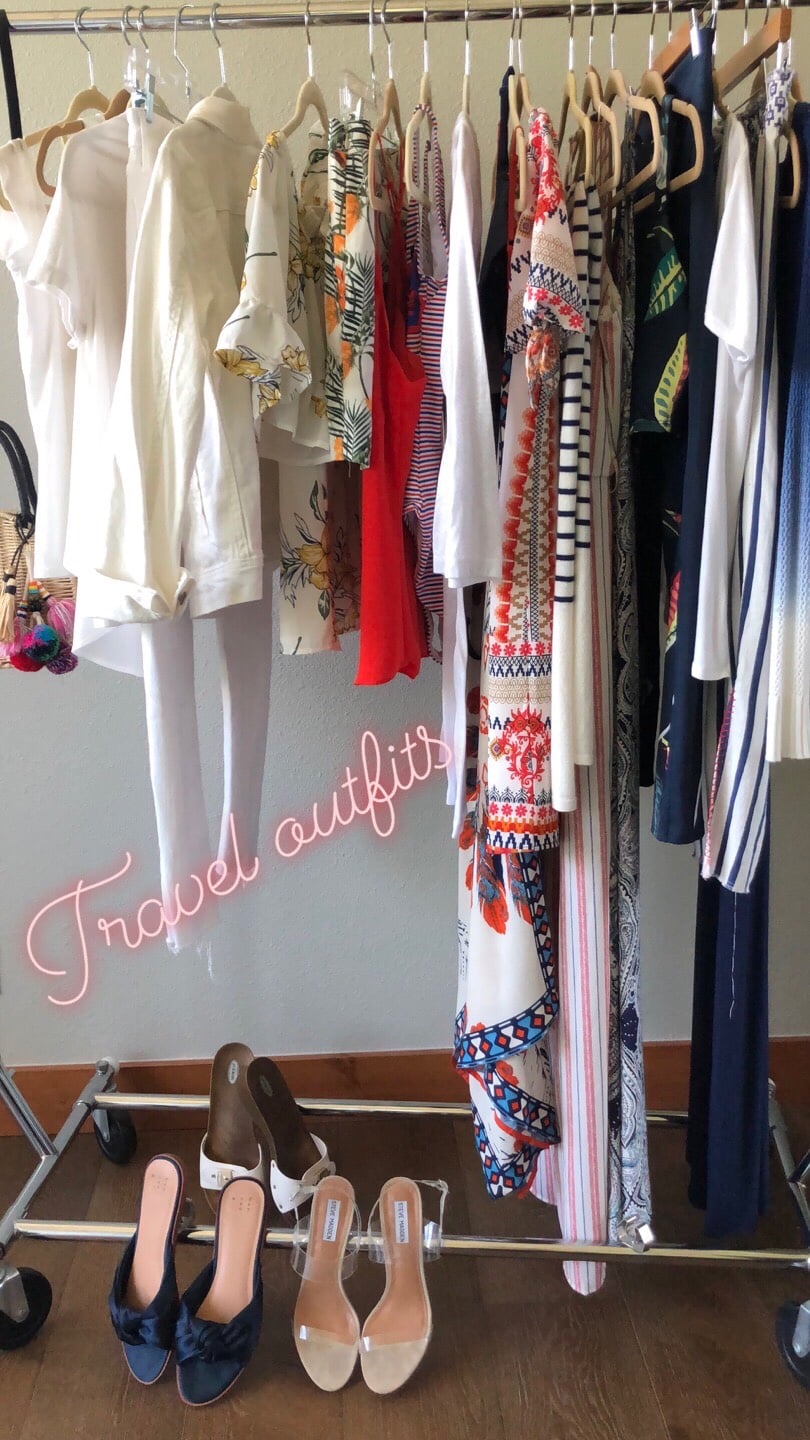 Recently I took a trip to Dallas and decided to challenge myself.
In light of the fact that I have limited availability near my home in Montana and I had no time to shop on the Internet, I took myself to our local TJMaxx. I spent about 2 hours there and what I was able to put together might surprise you.
For a five day trip I was able to find everything I needed and packed it all in my carry-on.
From swimwear to an anniversary evening out, here are my finds.
The key to packing light is coordinating colors. In this case a choose navy, white and a pop of orange.

Starting with my travel outfit white jeans ( typically I avoid white when traveling for obvious reasons but it was 100 degrees in Dallas ) a colorful tank, a shawl and my sneakers. ( wear your biggest shoes if you are carry on only)
Joe's Jeans from TJMaxx $69
Striped Scarf from  TJMaxx $18
Silk tank JCrew
Sneakers Reebok
It's hot and we are headed to dinner. Sometimes you just don't want any clothes to touch you. This dress is perfect for that time.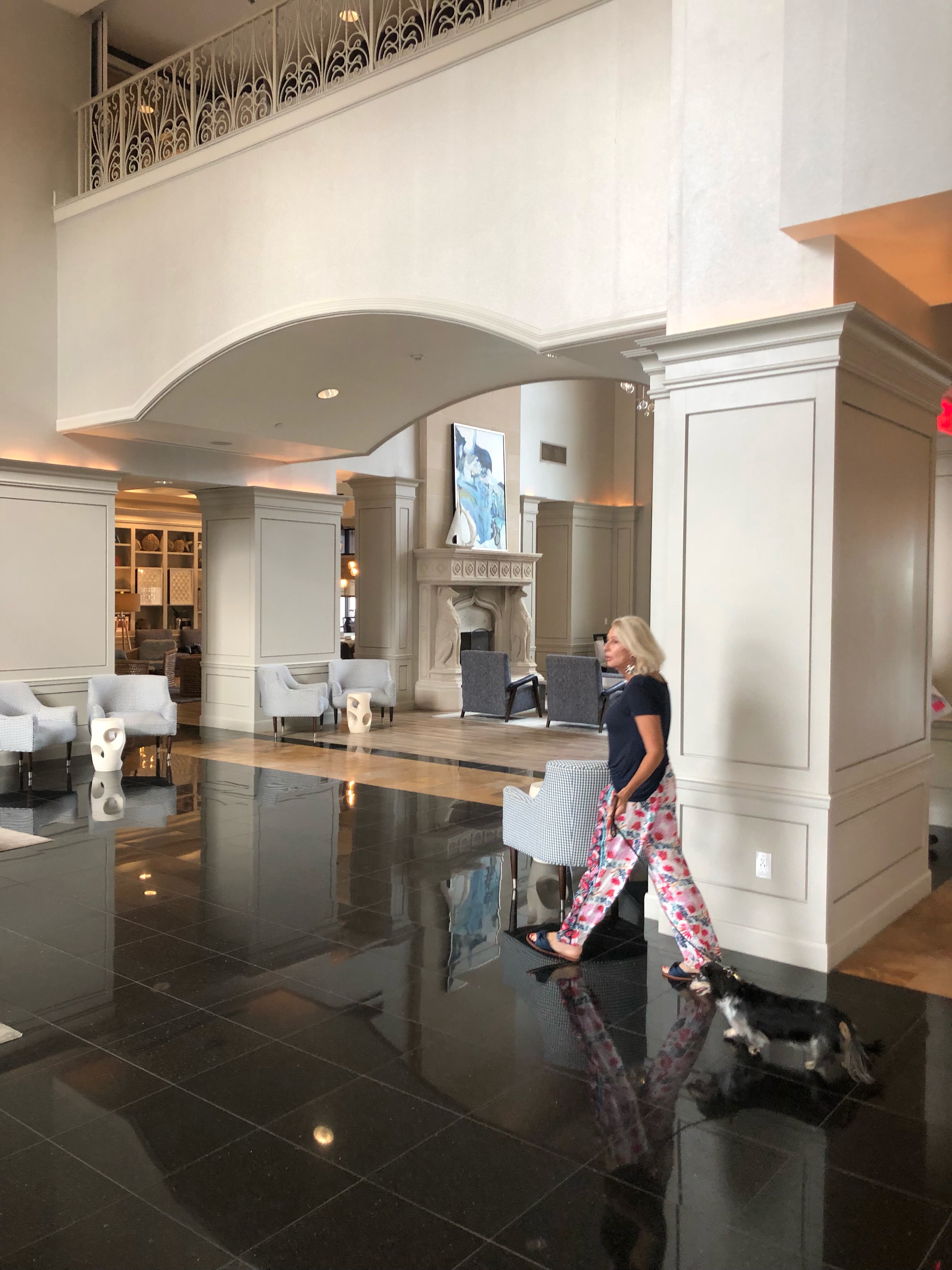 But first: COFFEE! Early morning coffee run!
Pants: TJMaxx $15
T-shirt: is a classic from Polo Ralph Lauren.
Satin Slides: Target $23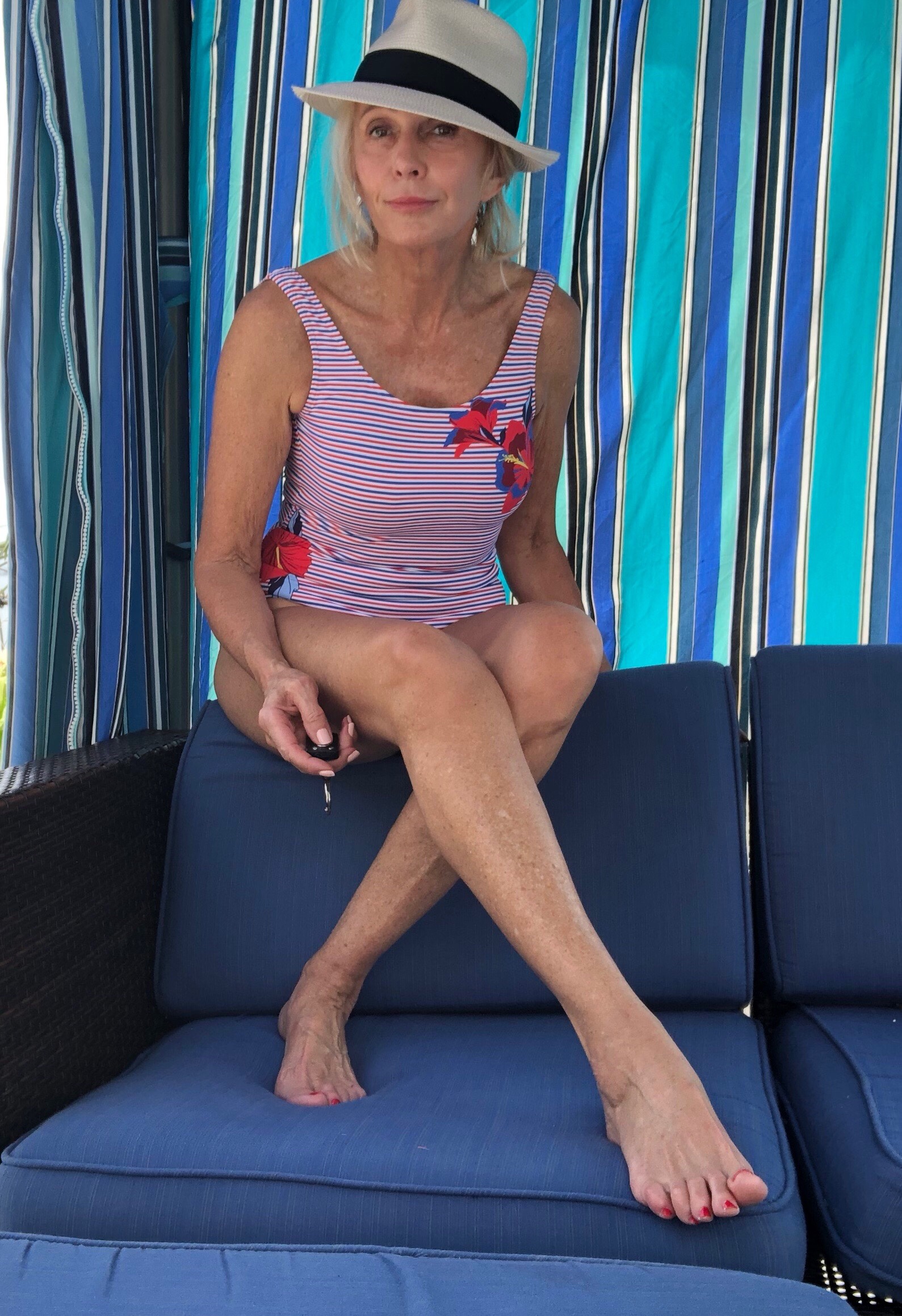 Find me by the water! Swimming is my favorite pastime. Taking selfies, not so much. (Busted with my selfie stick)
Swimsuit TJMaxx $30.
Hat: Eric Javits at Nordstrom $250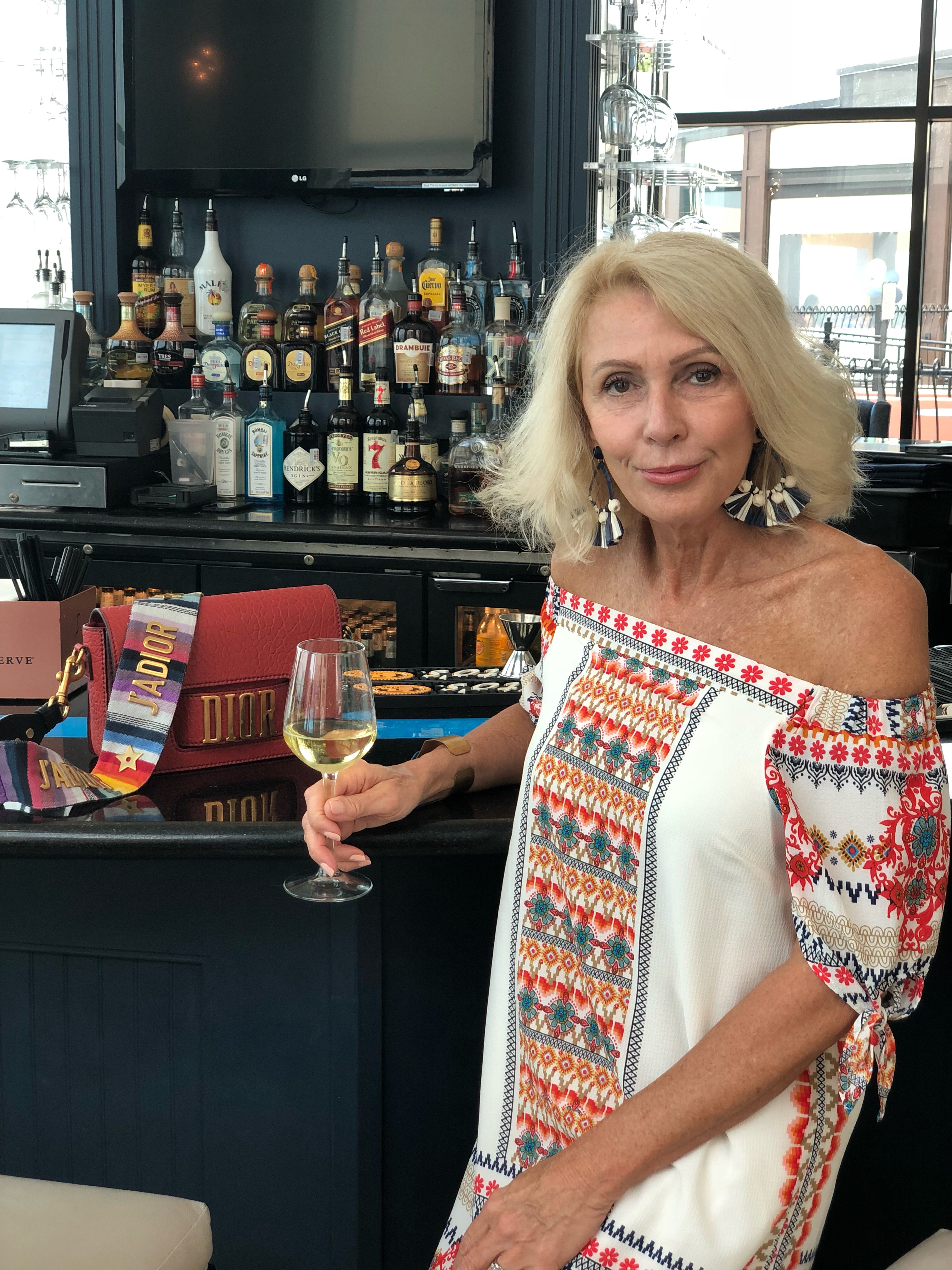 This was a well earned cocktail hour!
Dress: TJMaxx $25
Earrings: TJMax $10
Dior purse and strap: Major splurge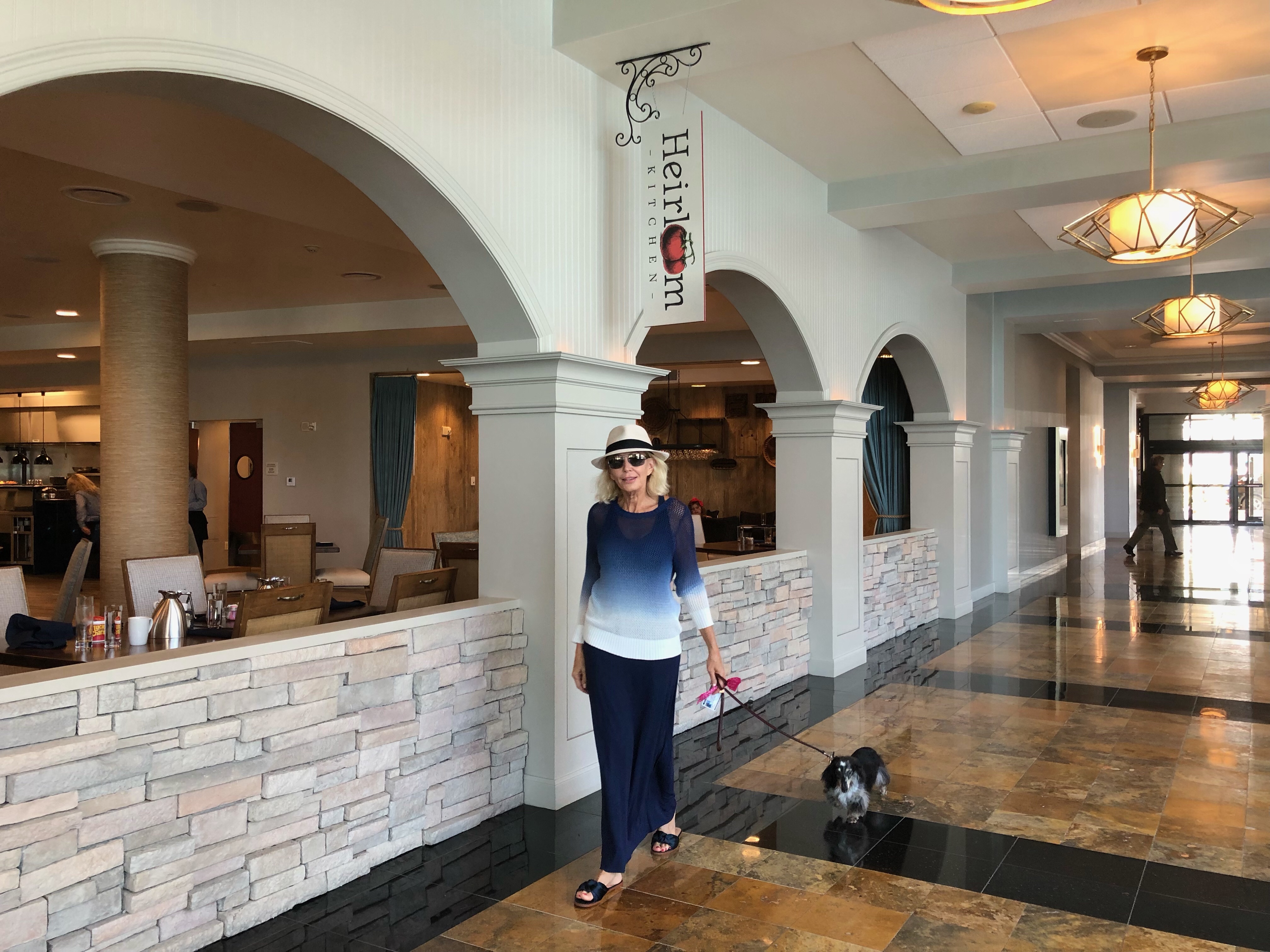 Hunting down lunch for Maggie, myself or both.
Dress: TJMaxx $30
Sweater: TJMaxx $49
Hat: Eric Javits $250
Sunglasses: RayBan $225
Satin slides: Target Style $23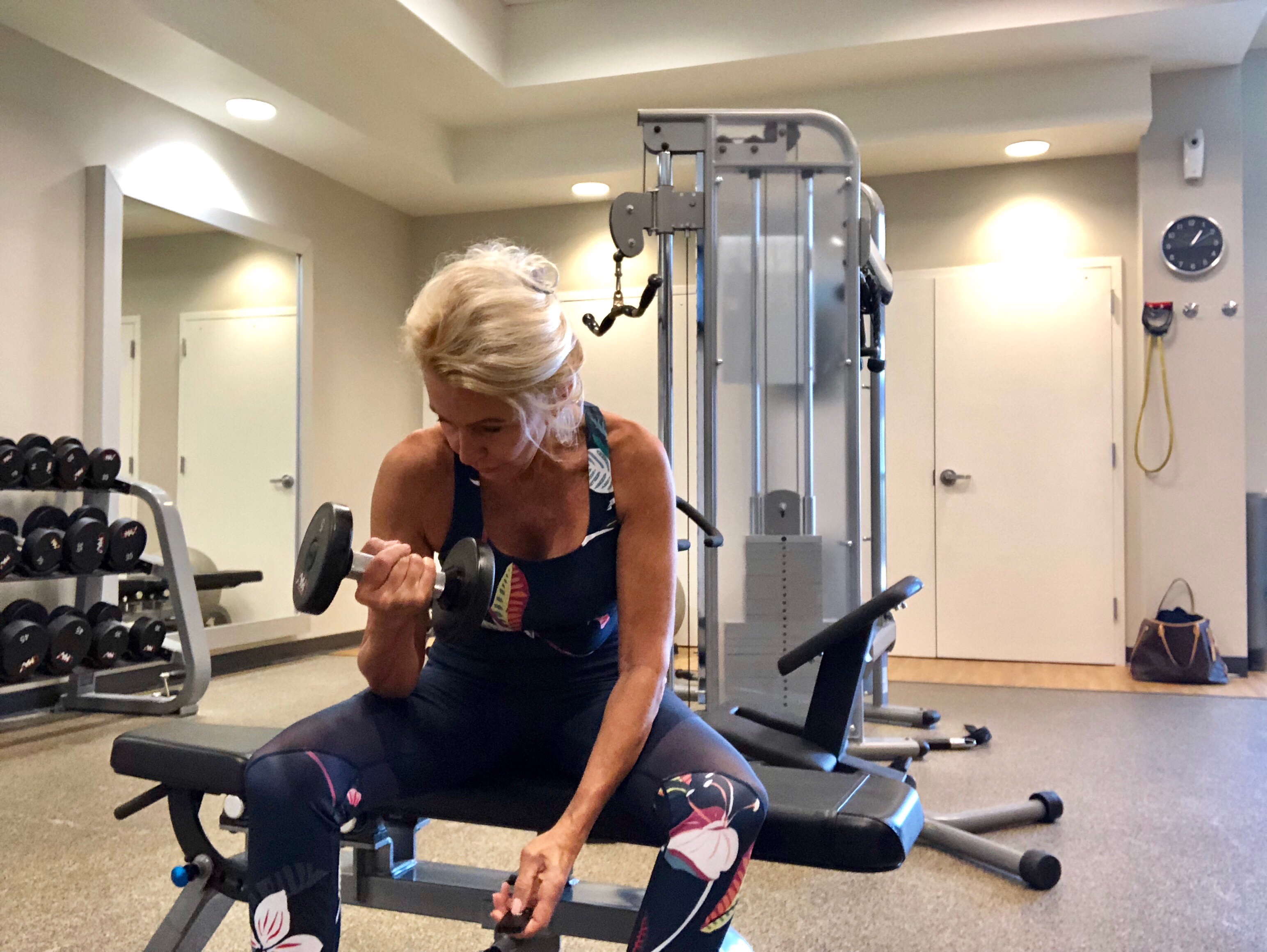 No way around a workout. Might as well look good while doing it!
JoyLab for Target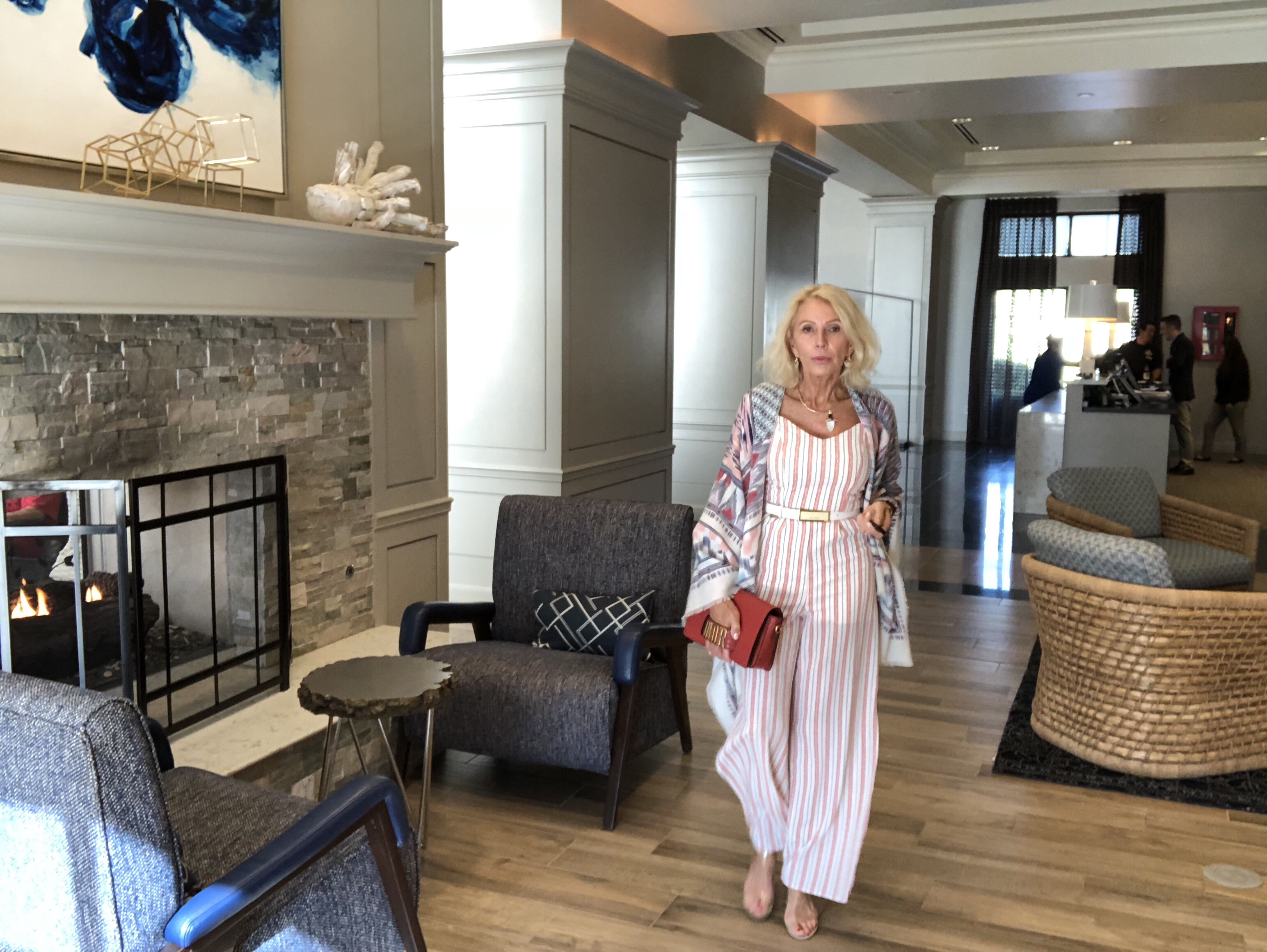 Our trip to Dallas was a little bit business and little bit pleasure. This jumpsuit works for both moods. Watch me go to my business meeting in my $20 jumpsuit from, you guessed it, TJMAXX!
Jumpsuit: TJMaxx $20
Shawl: TJMaxx $15
Belt Vintage St.John
Shoes Steve Madden
Dior clutch There is that splurge again minus the strap
Fashion Hack: the lining was too long for me on this jumpsuit so I simply cut it up higher to make the look more balanced to my frame. Don't let a little thing like lining stop you from this great find!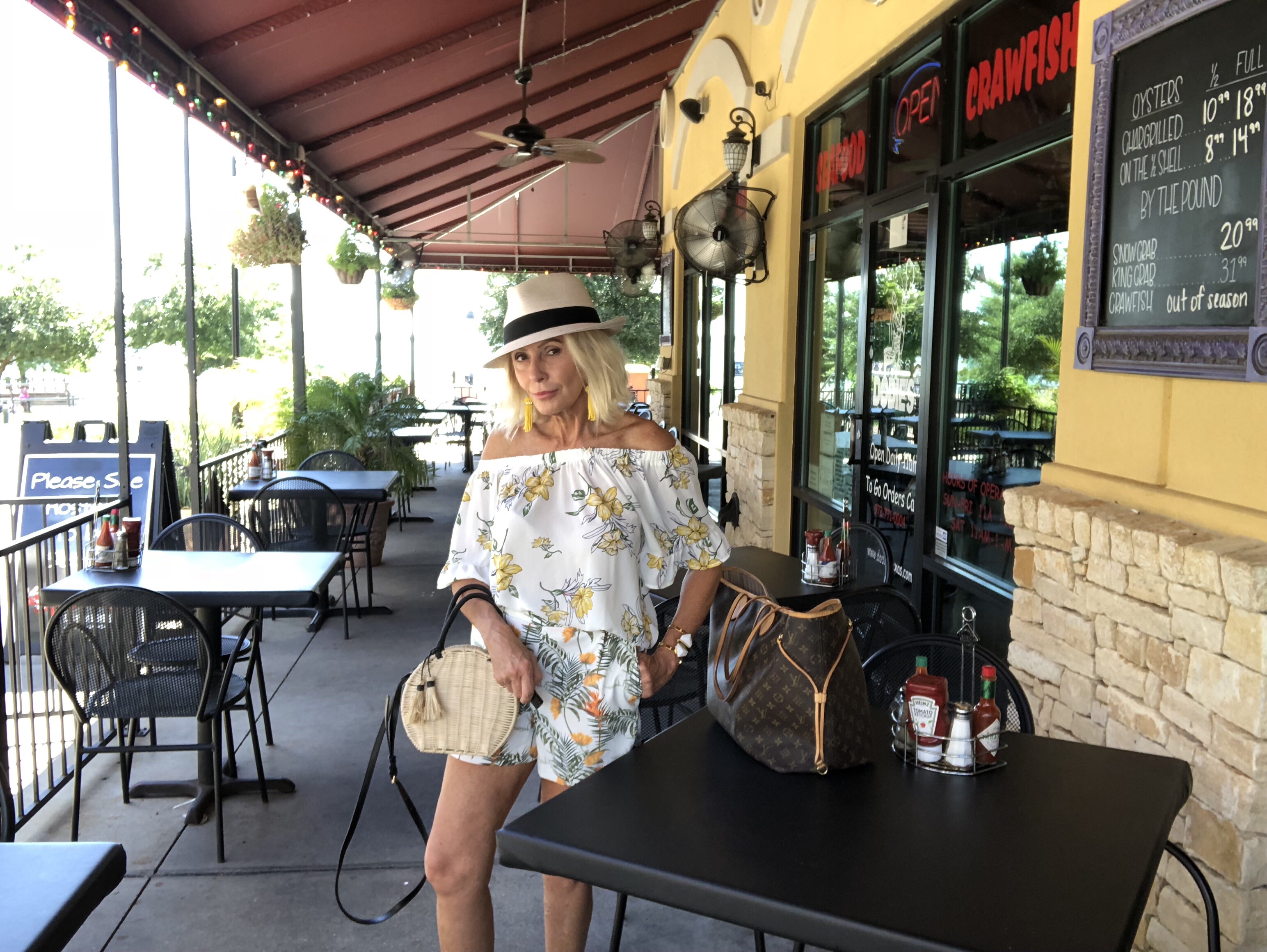 Mixing prints. The key to a print mix is color coordination and print size. One large one smaller. Same color pallet. Play around with it.
Top: TJMaxx $15
Shorts: TJMaxx $17
Hat: Eric Javits $250
Straw bag: Target style $28
Tote: Louis Vuitton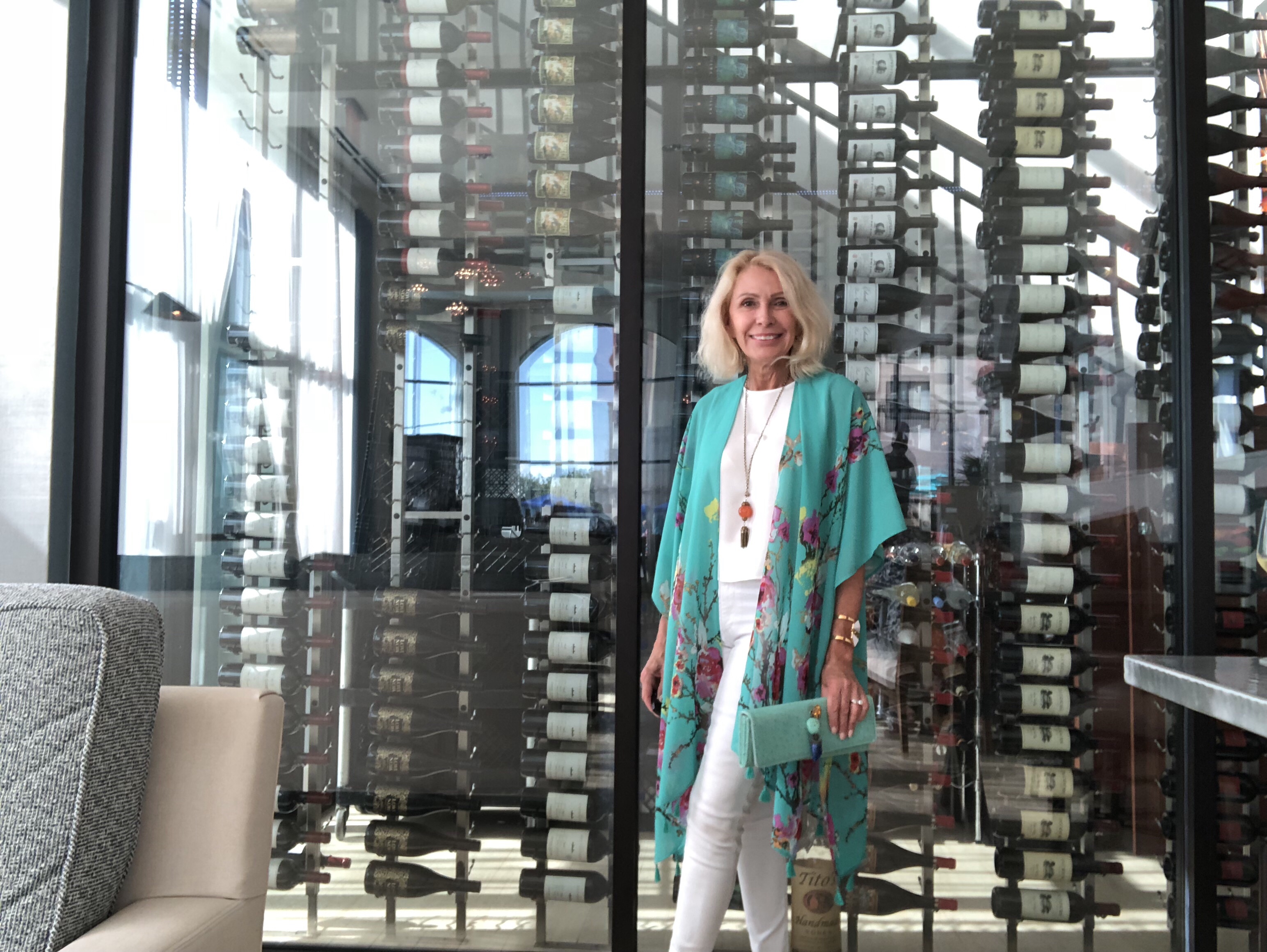 A happy wife leads to a happy life! I look pretty happy here on our 15th (maybe 16th) Anniversary dinner!!!
Jeans: Joe's Jeans TJMaxx $60
Silk Cami: Polo Ralph Lauren
Kimono: TJMaxx $17 shopped in the ladies XXL section.
Shoes: Steve Madden
Pendant: My mother's!
Clutch: I DIY'd it with the bling
Perfume: LeLabo musc25 which was a limited scent for Los Angeles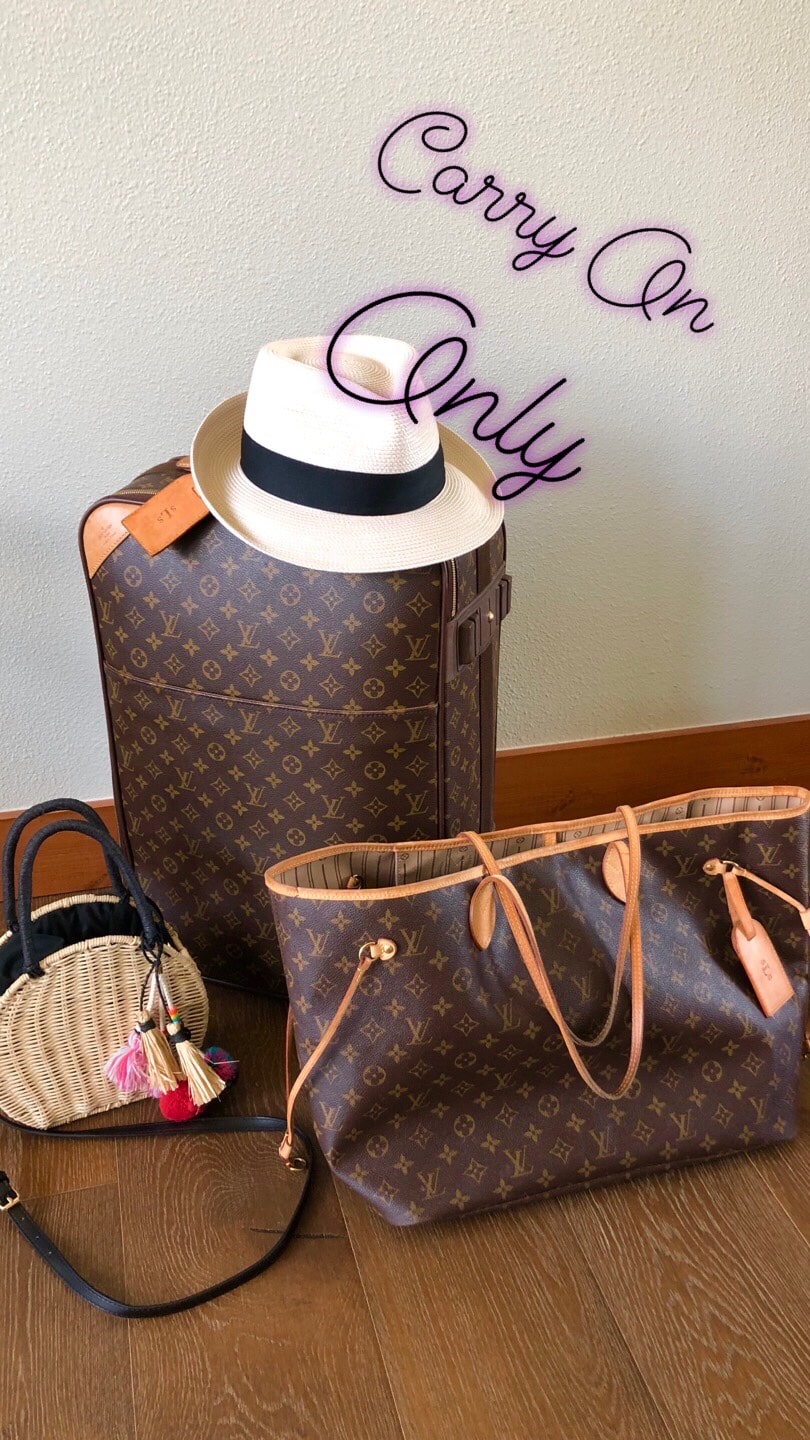 Well there it is! I packed an entire carry-on with some wonderful deals at TJMaxx and Target. Looking good is not so much about money as it is about thinking outside of the box and not shying away from places you might not readily frequent. Have fun with fashion. Invest in great accessories and look for hidden treasures.