With the start of the Spring 2023 season, it's time to check out the latest and greatest fashion trends. This year, it looks like preppy style is making a comeback. Get ready to break out your blazers, cropped tops, jeans, and statement heels because this look is classic and easy to wear! Here's what you need to know before you embrace the preppy trend.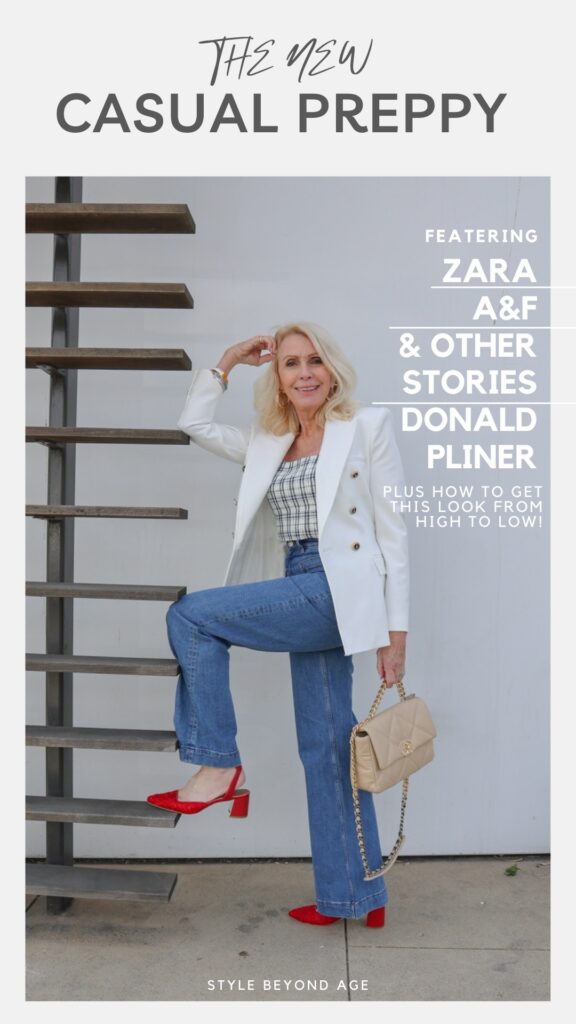 The Basics of Preppy Style
At its core, preppy style is all about classic pieces paired together in an effortless way. Think white blazers, tweed crop tops, detailed denim jeans, and a statement heel. It's all about proportion when pairing your cropped top with high-waisted jeans! This little tweed top from Abercrombie and Fitch was a pleasant surprise. The quality and cut were great and without breaking the bank you can try this cropped top with our favorite high-waisted jeans. Tucking in a long sleeve shirt can also be a great way to show off your waistline while still looking polished and put together.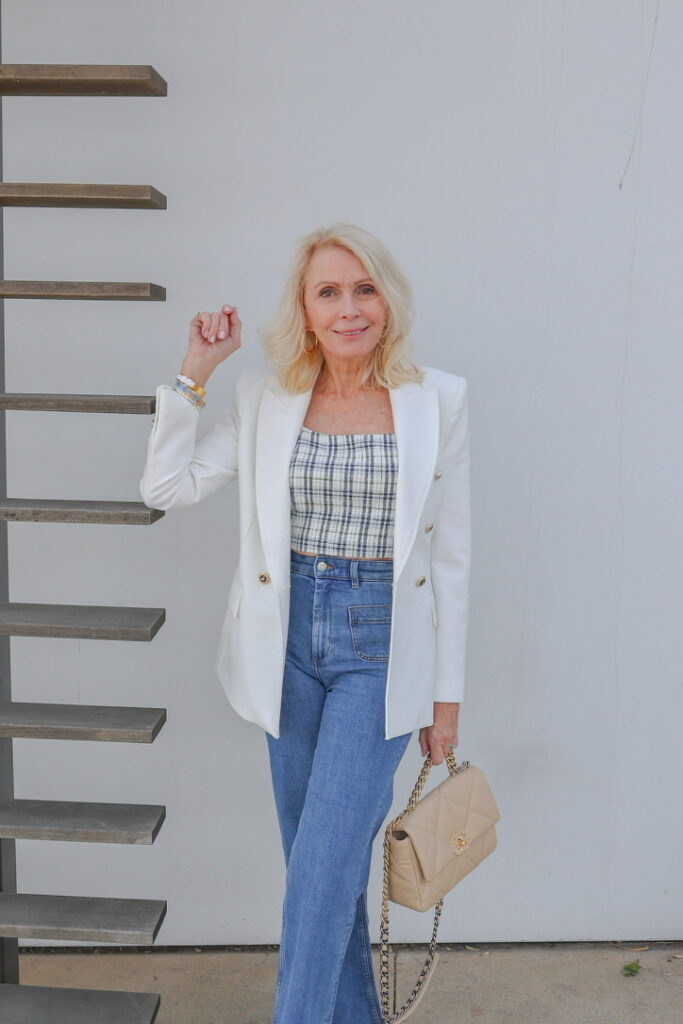 Adding Colorful Accents
This season's take on preppy style incorporates bright colors into an otherwise neutral look—think bright pops of red, emerald green, or sapphire blue. A few eye-catching accessories can really elevate your outfit from classic to modern as well.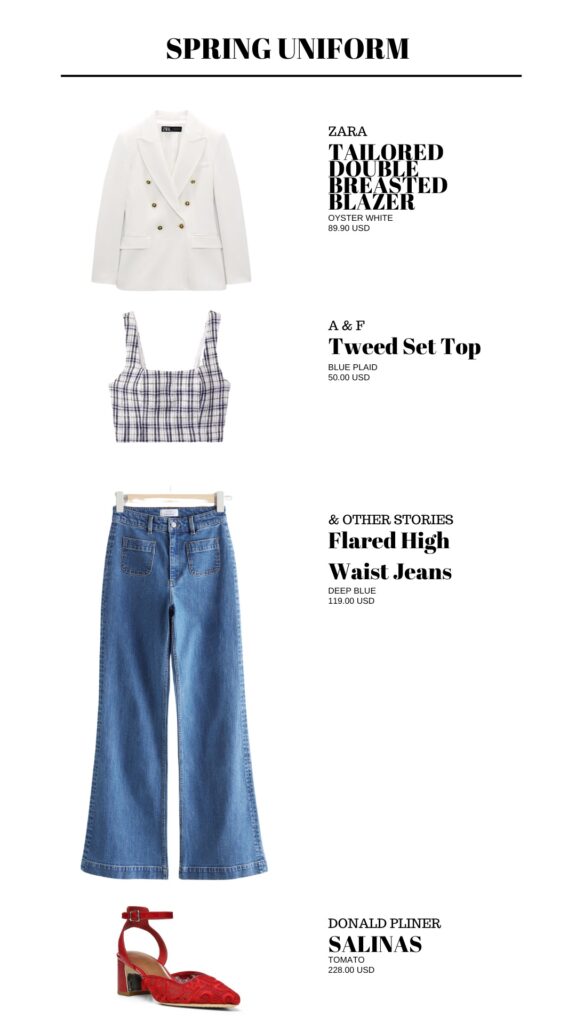 Look For Less
This look that we shot while mom was in Los Angeles is surprisingly affordable. I challenge you to find a better quality blazer for the price! At $90.00 this Zara blazer comes in WAY less than most on the market right now. The same goes for the top and jeans. I'm not sure if you've had a chance to try & Other Stories' denim but they are always a great fit. And the shoes! Let's not forget about these incredibly comfortable and surprisingly cute Salina's pumps.
Tap These Links To Shop This Look
ZARA TAILORED DOUBLE-BREASTED BLAZER
Be Confident with Your Preppy Look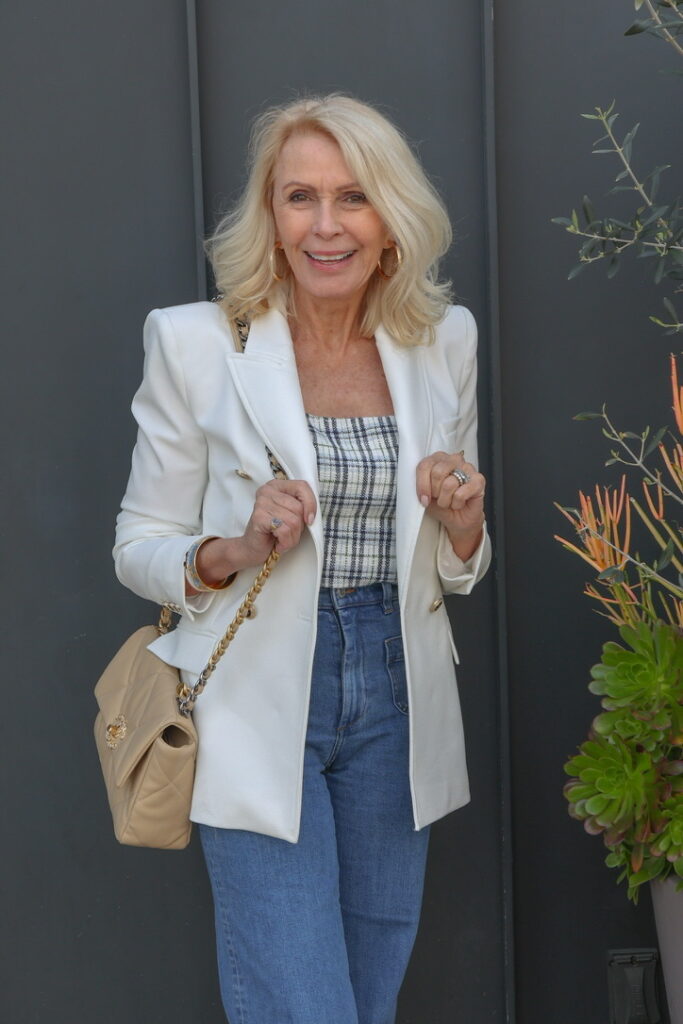 Wearing preppy style doesn't have to mean getting stuck in the same old wardrobe rotation every day. Have fun with experimenting different combinations and don't be afraid to mix patterns or textures for something unique. No matter how you choose to rock your preppy look in spring 2023, make sure that you feel confident wearing it—confidence is always fashionable!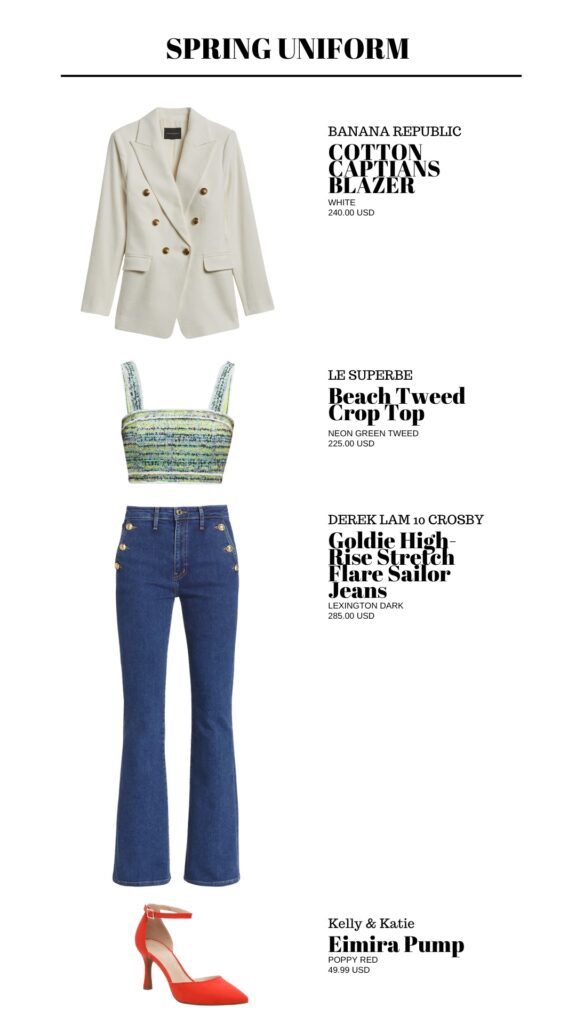 Splurging A Little
The fabrication of this blazer from Banana Republic looks so luxe without compromising price or quality. Pairing the blazer with this great green tweed top from Le Superbe, takes it up another fun notch! THEN, because who doesn't love more FUN, I paired it with the sailor jeans from Derek Lam 10 Crosby. The final pop comes from these very practical and ever-so-affordable ankle strap pumps that I found on DSW.
Tap These Links To Shop This Look
BANANA REPUBLIC COTTON CAPTAINS BLAZER
LE SUPERBE BEACH TWEED CROP TOP
10 CROSBY GOLDIE HIGH-RISE STRETCH FLARE SAILOR JEANS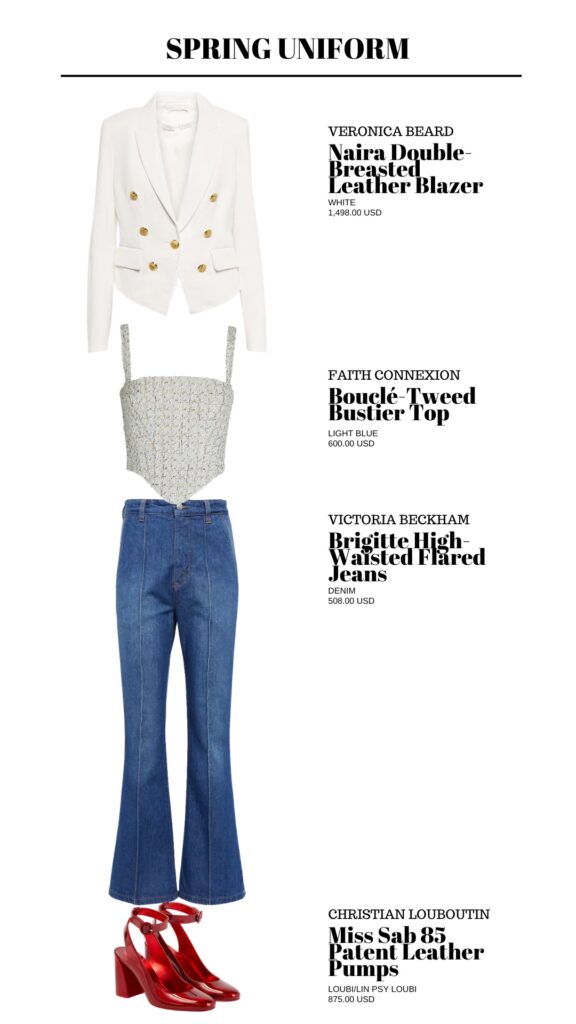 Over the Top Luxe
Spring 2023 is all about embracing classic styles with a modern twist! The preppy trend is back in full force this season so get ready to break out your blazers, cropped tops, jeans, and heels for some fresh new looks that are sure to turn heads. With its focus on proportion, color accents, and confidence, there are plenty of ways for fashion lovers everywhere and on every budget, to make this trend their own this season! So what are you waiting for? Get ready for the return of preppy style now!
Tap These Links To Shop This Look
VERONICA BEARD NAIRA DOUBLE-BREASTED LEATHER BLAZER
FAITH CONNEXION BOUCLE TWEED BUSTIER TOP
VICTORIA BECKHAM BRIDGETTE HIGH-WAISTED FLARED JEANS
CHRISTIAN LOUBOUTIN MISS SAB 85 PATENT LEATHER PUMPS
I am so grateful to Serena, our #residentstylist who put this blog together! With a few changes to our wardrobe, we see that we don't need to spend thousands of dollars on new clothing when we already have the items to create a trendy, classy, and timeless look. If you want to find these same looks without putting in the work, no worries – we've got you covered! Tap these links and find the perfect coordinating pieces to create your favorite version of these stylist-curated looks. Who knows? This could be the beginning of your own personal style journey. Make it count! For More Spring outfit inspiration, check out my blog post here!