This post contains affiliate links for products mentioned by Style Beyond Age
Look all around. It's not hard to see that the feather trend is all over the stores this spring. Feathers are a fun fashion trend this season, and I'm all in. I have found that when I try on these feather looks, a little indeed goes along way.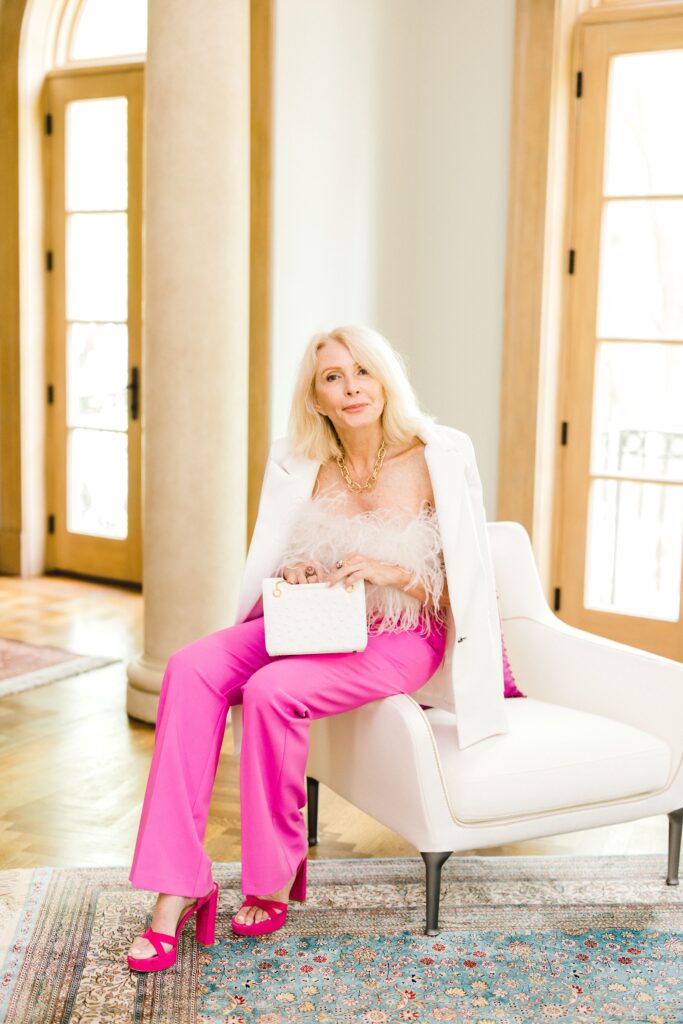 From feather designs in dresses, blazers and tops, the feather trend is all the rage this Spring and I am assuming we will continue to see it throughout the year. I want to show you how I style a few of my favorite feather pieces.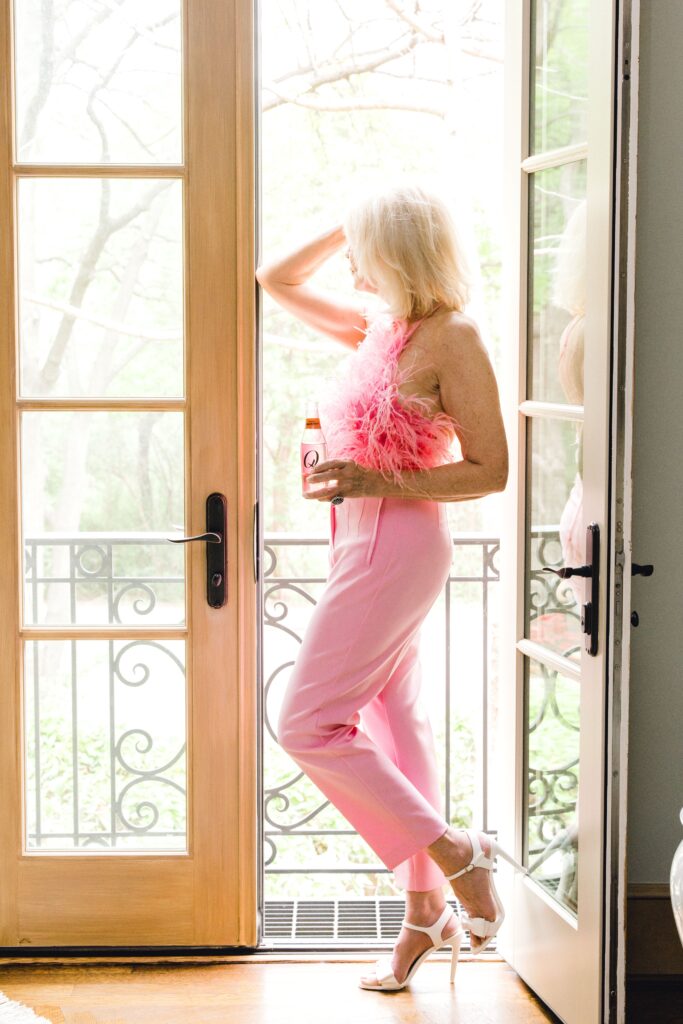 This iteration of the feather trend is the Cult Gaia halter top. It is easy to wear and fits everyone. It laces up in the back which gives it a cool look . I cover up the back of the halter but this is a great piece to share with the younger generation, if they are into this look. I love all the bright colors this season. For me, the best way to pull off this look is with some pants like these bubble gum colored high waisted ones from Zara. If you are of a certain age, the oversized blazer is definitely a great piece for your wardrobe, it covers your arms and helps pull your look together.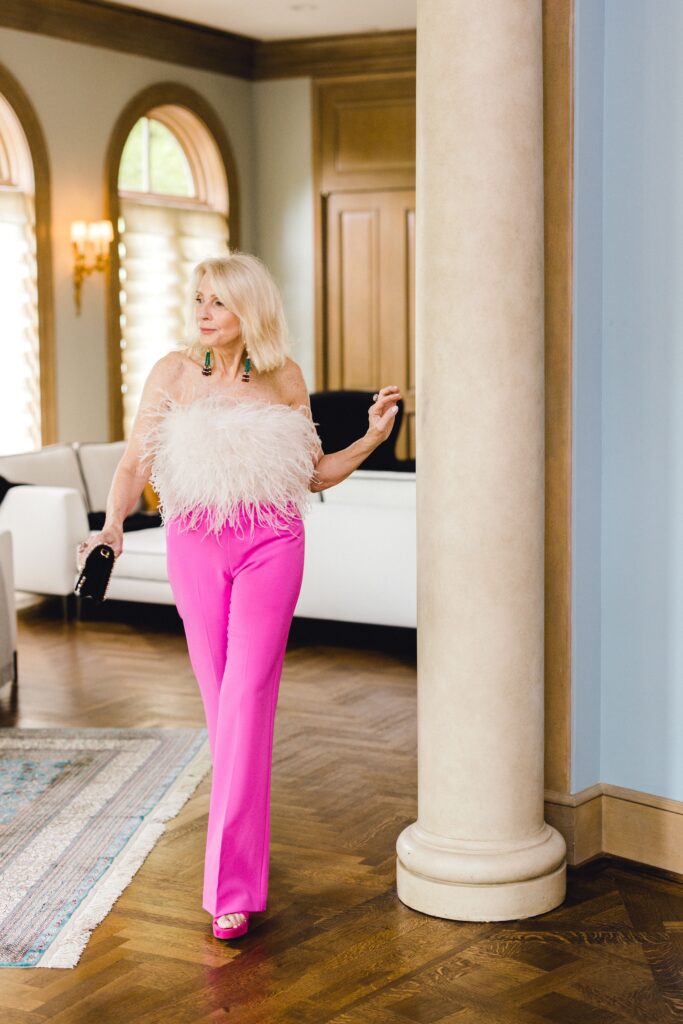 This LaMarca bustier comes in several subtle colors. The feather bustier is a fun spring staple to have in your closet that can mix and match with a lot of pieces. The best part, is that the LaMarca bustier won't break the bank.
The feather bustier is the simplest way to incorporate the look in your spring fashion. The bustier is easy to find in stores you can look for LaMarca and Cult Gaia. I paired it with my Trina Turk flared pants, my white leather vegan blazer and some Gianvitto Rossi sandals.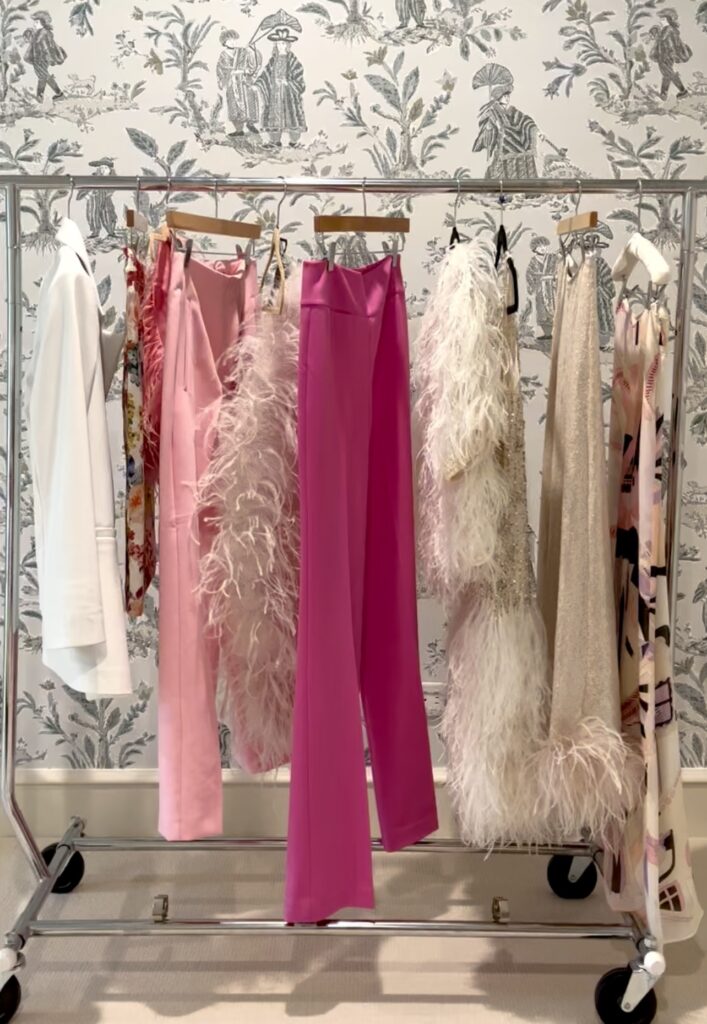 You can see from these pictures that I am rotating many of the same items. You don't need much to have multiple stylish looks. By sticking with a few favorite trends that you really like, you can be on trend without following every fashion whim.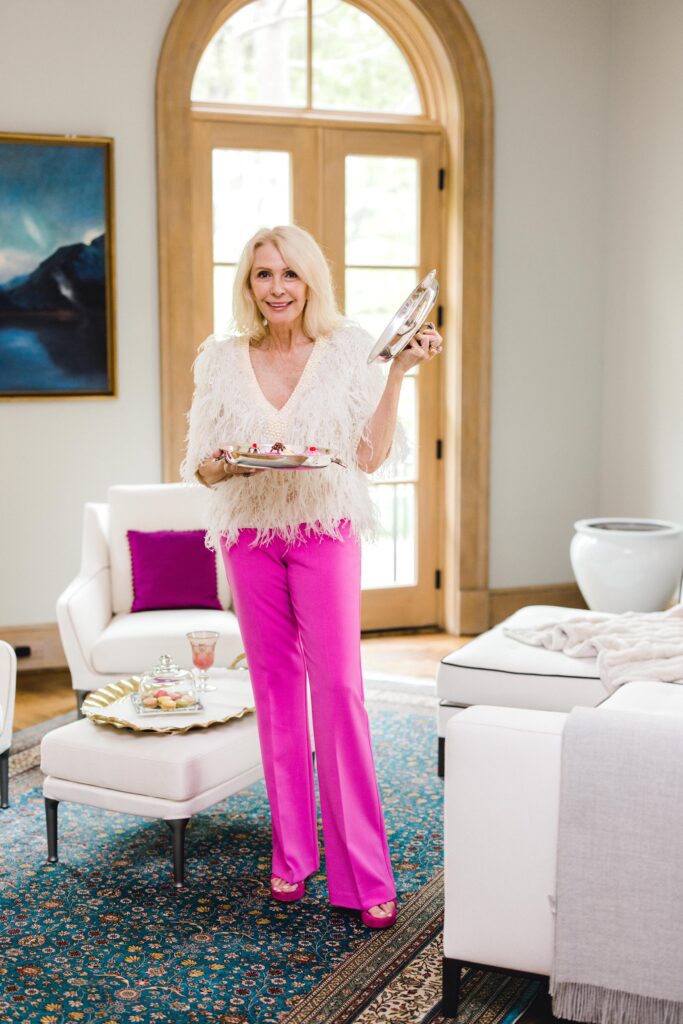 For me, my favorite look for the feather trend is an elongated top. I have mentioned that I am short waisted and my body type is a consideration in everything I choose. I find that a feather V-neck top is comfortable and gives me the length I want in my torso. This particular top might be a little harder to find but definitely worth the hunt. Try looking in places like vintage stores and clothing resale shops for one of a kind clothing pieces. I always find some of my most treasured items this way.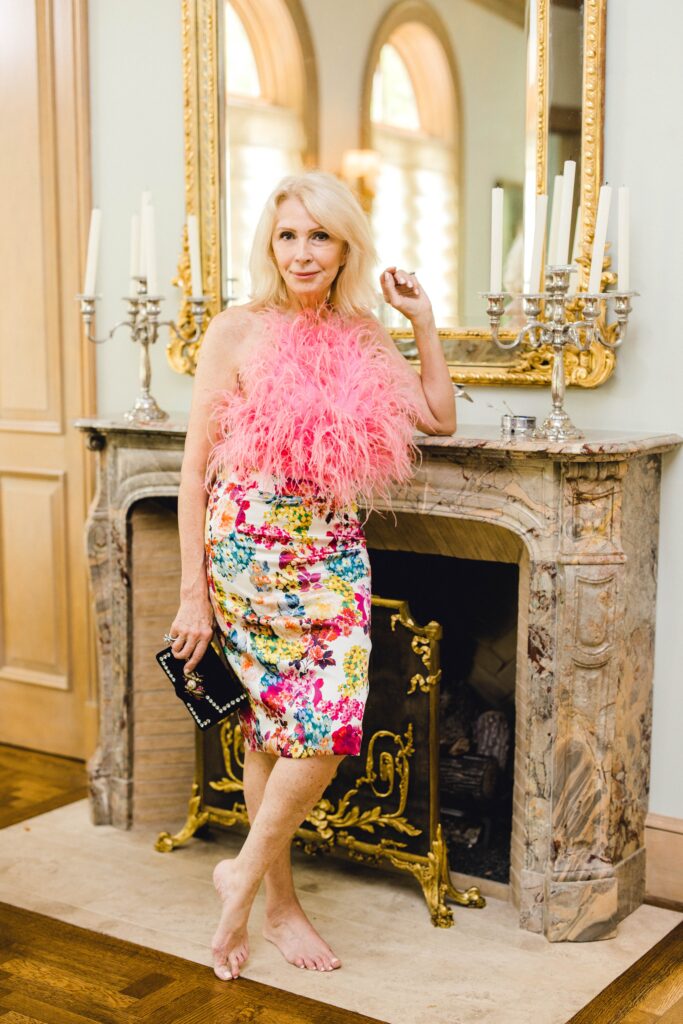 Can you see the difference in this picture? The width of the Cult Gaia halter gives me more than I need on top and see how I paired it with my Óscar de la renta skirt?
Even with a jacket, I'm a bit overwhelmed with the fullness of my feather halter top! For you long torso ladies, this one is perfect.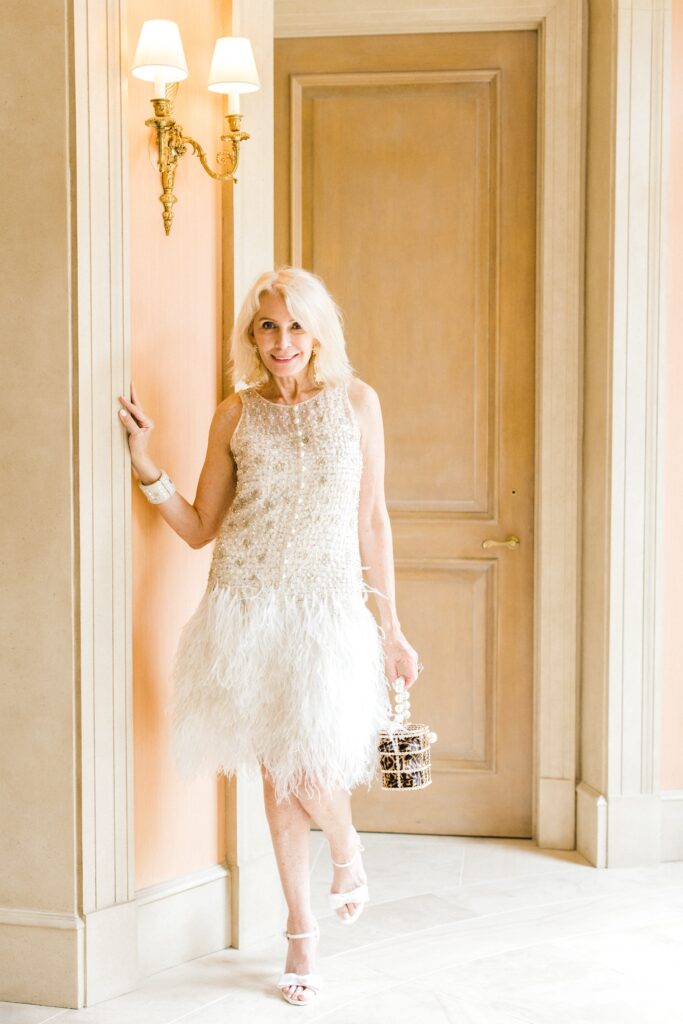 If feathers on top don't work for your body type, you may want to try this look . I love this iteration by Oscar de la Renta. Its not too overwhelming and the trim on the bottom of the dress provides the playful look I was after. For years, before the feather trend came along, I elongated skirts I love (but were too short) with an ostrich feather trim. Doing this gave me the length I needed and I didn't have to miss out on wearing a piece I love. Unfortunately, some items such as mini skirts are no longer for me.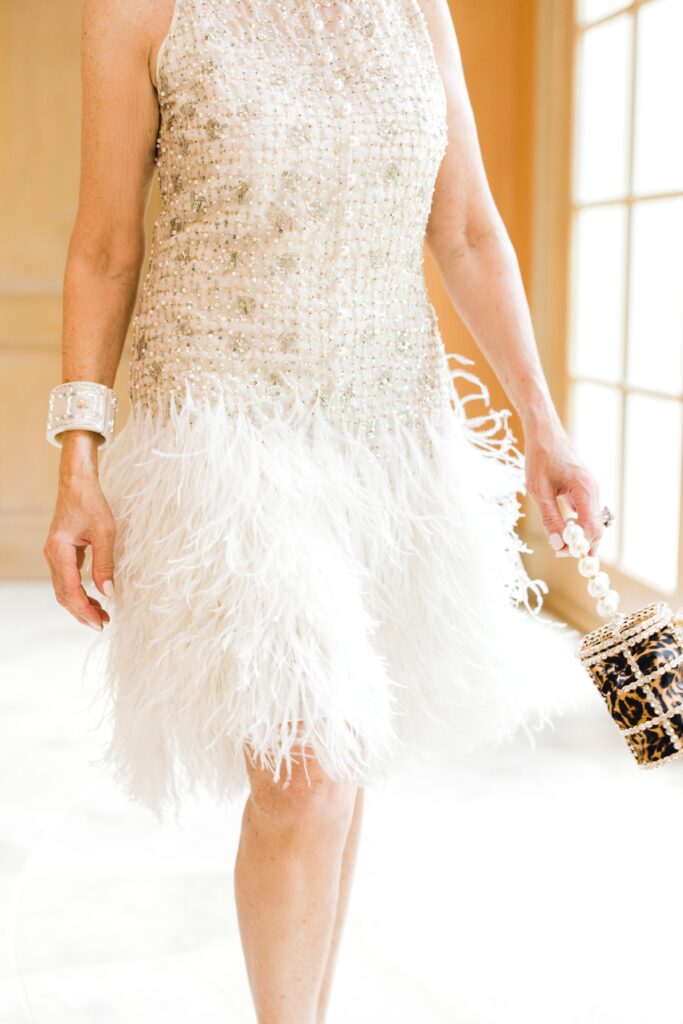 Another idea, if you have a sheath dress that you are no longer wearing, is adding ostrich trim to the bottom. Take it to your tailor or do it yourself if you know how to sew. Adding trim to the bottom of a dress is an inexpensive way to rework an outdated piece with this spring trend. How fun is that!
I invest in accessories and these Chanel heels are my summer splurge. The handbag on the other hand, is reasonably priced from Amazon. The bag pouch comes in different colors, I had the claret color so I just changed it out to change the look. It's a great copy of an very expensive purse. Why not, you'll only use it every once in a while and it will look like a new bag every time you do.
Although everything here looks expensive, if you choose wisely you can look like a million bucks without spending a ton of money. Take a simple pair of pants and trim them out with feathers at the bottom. Look for that beautiful feather top from a great resale shop. Shop the internet and take advantage of all the many price points out there, that are within your budget.
I hope some of these fashion ideas help you with how to wear the feather trend this Spring.
If fashion is supposed to be fun, then let's have fun with fashion! Remember, you can always kick your look up a notch with a little imagination….and some feathers.
More Fashions Posts
Spring Trends 2022 for Women Over 50
How to build a Capsule Wardrobe out of 5 easy pieces
How to wear prints and patterns at every age