Summer is the perfect season for swimming and spending time on the beach. However, many women over 40 may sometimes feel uncomfortable or self-conscious when it comes to swimwear. But the truth is, there's no reason to feel that way! Here are some tips on how to find the perfect swimsuit for women over 40 that enhances both style and confidence.
Strategic Cut-Outs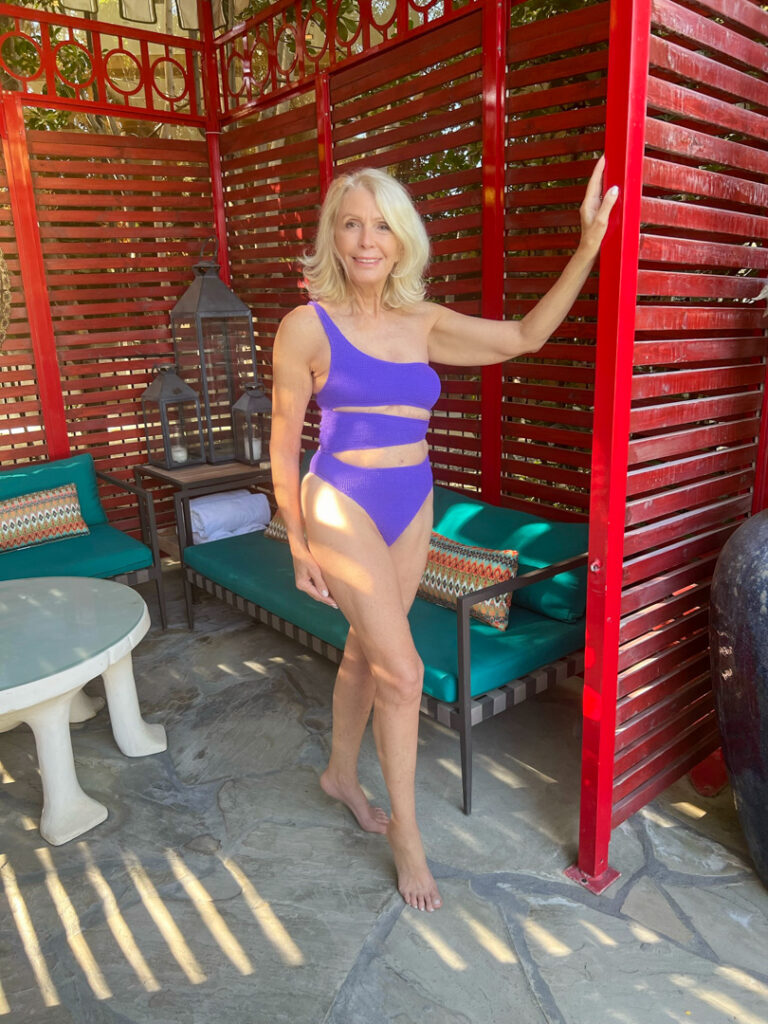 Sonia wears the Rico Asymmetrical One Piece Swimsuit in this summer's favorite color!
Strategic cut-outs are a fashionable way to add some interesting details to your swimsuit and draw attention to your best features. For example, cut-outs on the waistline can create the illusion of a slimmer figure, while halter necklines can accentuate the bust. Just remember: the key is to know what areas of your body to highlight and which ones to conceal.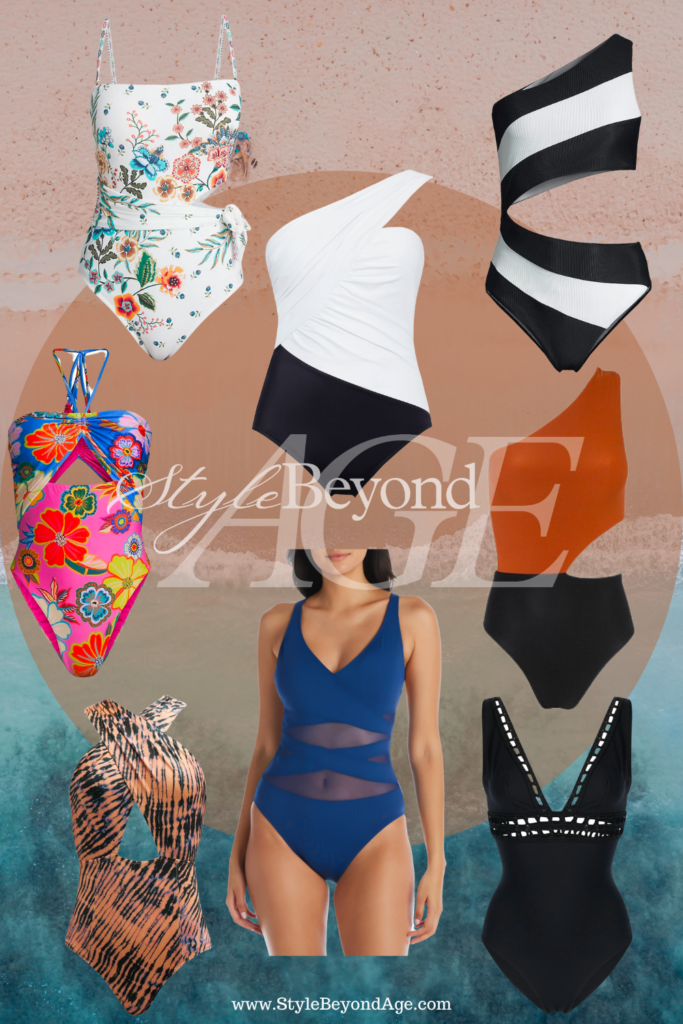 Johnny Was Ardella One-Piece Swimsuit
Goddess Colorblock One-Shoulder Convertible One-Piece Swimsuit
Beach Riot Joyce Cut-Put One-Piece Swimsuit
Farm Rio Full Garden Cut-Out One-Piece Swimsuit
BLEU by Rod Beattie Don't Mesh Crisscross Strap One-Piece Swimsuit
ViX By Paula Hermanny Drape Asymmetric One-Piece Swimsuit
Ulla Johnson Keiran Cutout One-Piece Swimsuit
Ermanno Scervino plunging V-neck swimsuit
One-Piece Swimsuits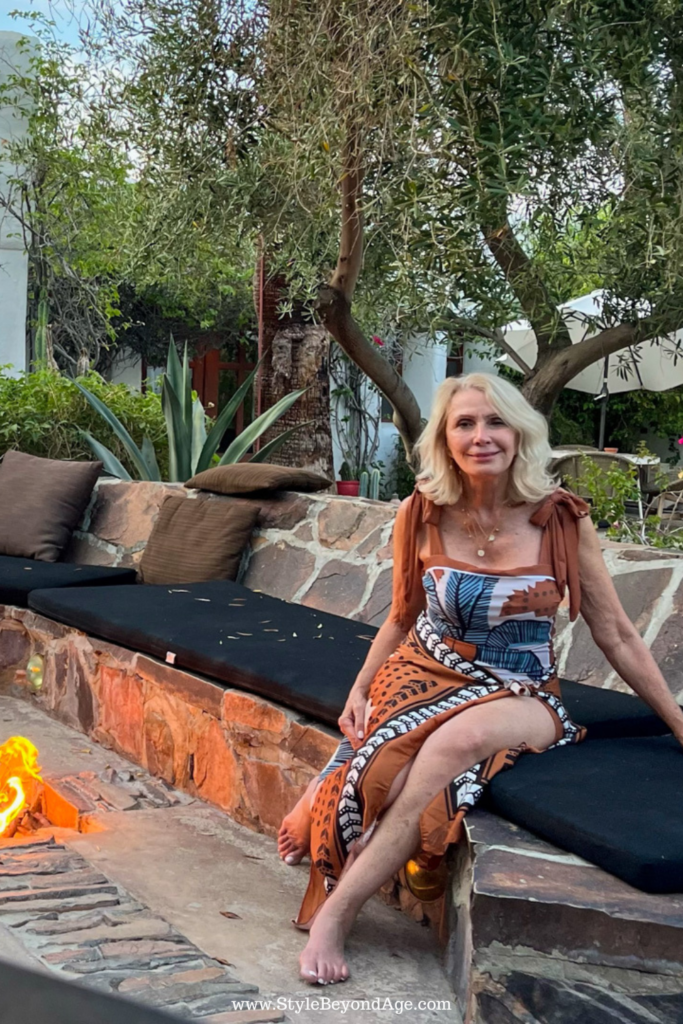 Sonia wears the Tie-shoulder Coconut Tree Print One Piece Swimsuit and Sarong from Flaxmaker.
One-piece swimsuits have made a comeback, and we're thankful they did! Not only do they offer better coverage for women over 40, but a well-tailored one-piece swimsuit can enhance your curves. You can go for styles with ruching or shirring to smooth out any problem areas or opt for high necklines to elongate your torso. We are loving all of these printed one-pieces swimsuits that can double as body suits too.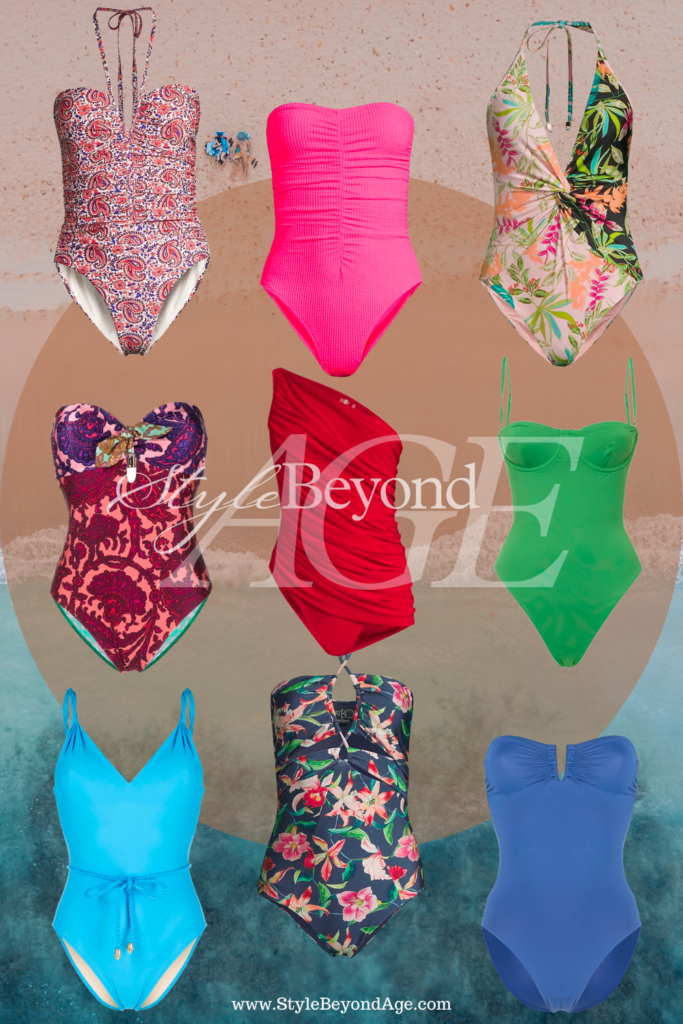 Veronica Beard Hazina Halter One-Piece Swimsuit
Milly Ruched Strapless One-Piece Swimsuit
PatBo Tropicalia Contrasting Floral Twisted One-Piece Swimsuit
ZIMMERMANN Tiggy keyhole paisley-print one-piece
Norma Kamali Diana Mio Asymmetric Shirred One-Piece Swimsuit
Weworewhat Balconette one piece swimsuit
Zeus+Dione Kaladi Iconic belted one piece
PatBO Laelia Halterneck Swimsuit
ERES Cassiopée ruched cut-out swimsuit
Bikinis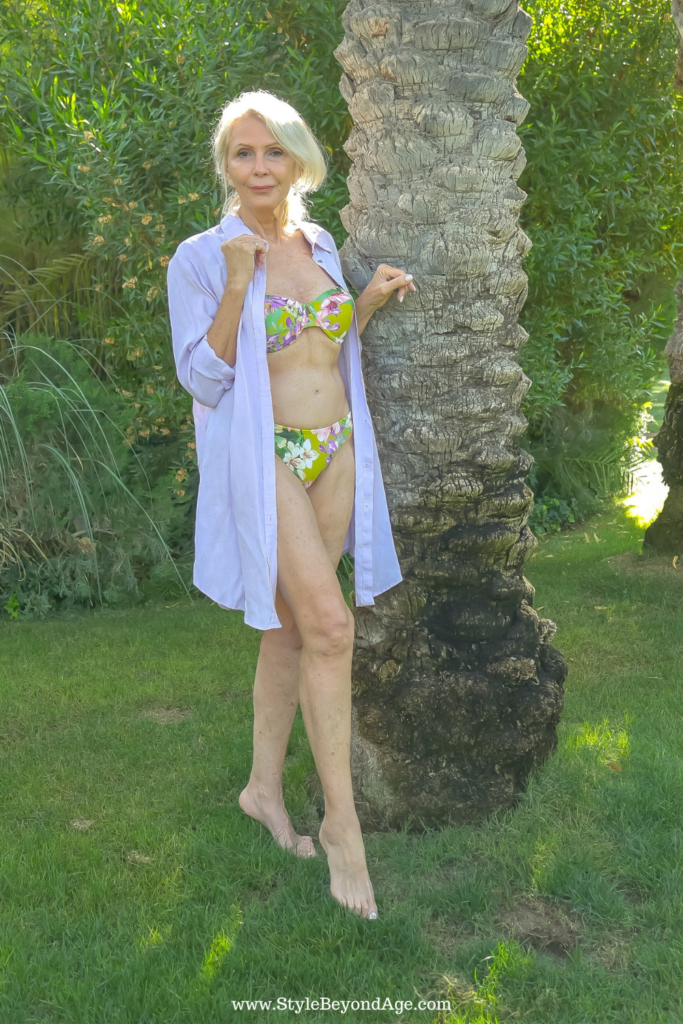 Sonia wears a relaxed button-front shirt in light purple from Mango as a cover-up over a gold floral balconette bikini available at Express.
If you're thinking that bikinis aren't for women over 40, think again! With the right shape, size, and design, you can rock the bikini and feel great doing it. High-waisted bikini bottoms are a popular pick among women over 40 because they offer more coverage and can help you create or enhance an hourglass figure. Also, emphasizing your upper half with a halter top or bandeau will help to make you feel more confident. We love a balconette bra top when it comes to our bikinis. It has the support and coverage that we like.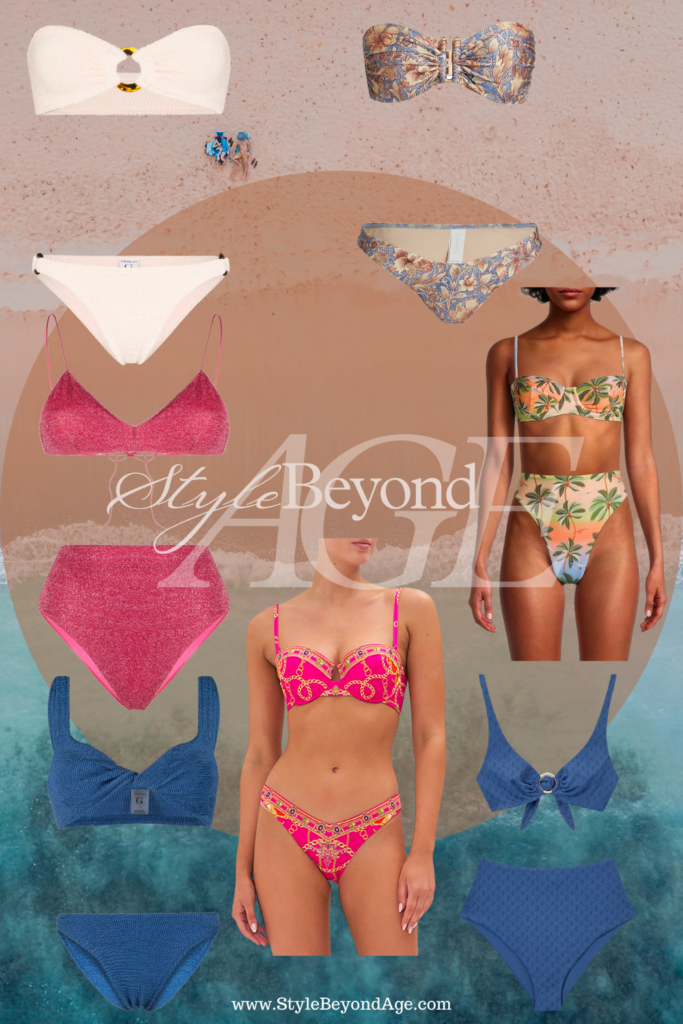 Hunza G Gloria bandeau crinkle bikini
Zimmermann Chintz Floral Bandeau Bikini Set
OséreeLumière glitter bikini set
Farm Rio Carioca Balconette Bikini Top and High waist bottom
CAMILLA Underwire Bikini Top and bottom in Wild and Running
Jimmy Choo Sira logo-print bikini
Cover-Ups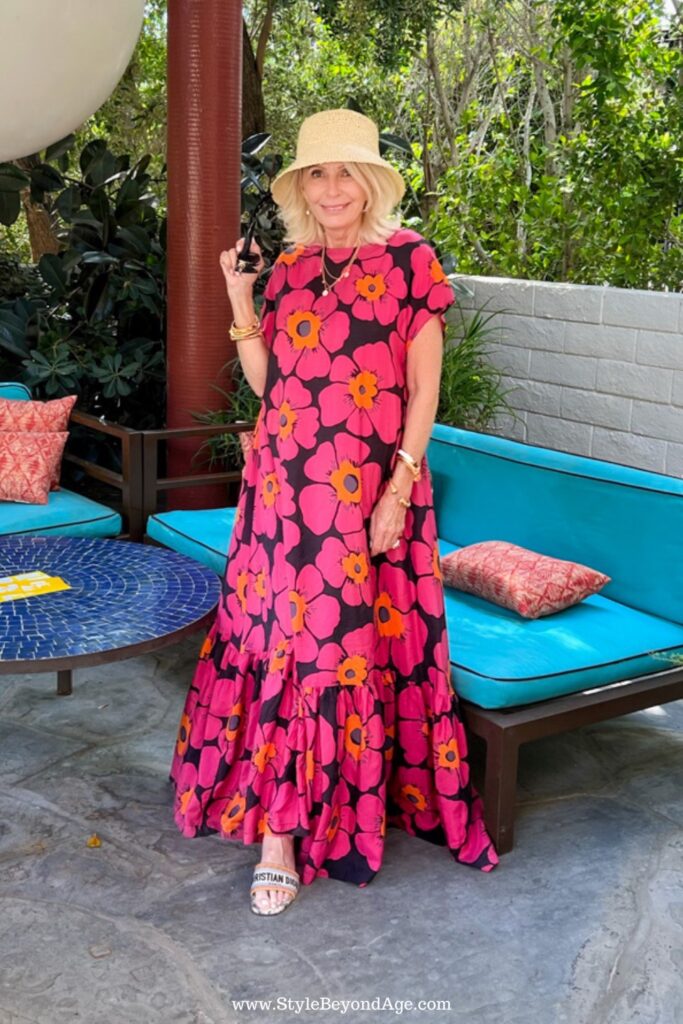 Sonia wears the Free People 'Blossom' Maxi Dress from a few seasons ago. A reminder to always shop your closet first!
Cover-ups have become a fashion staple when it comes to swimwear. Not only are they stylish, but they also offer great coverage when you're not in the water. A sarong or kaftan can transform a swimsuit into an outfit in seconds. Choose lightweight fabrics that will keep you cool in the heat. Then you're ready to go from the beach to the bar in minutes!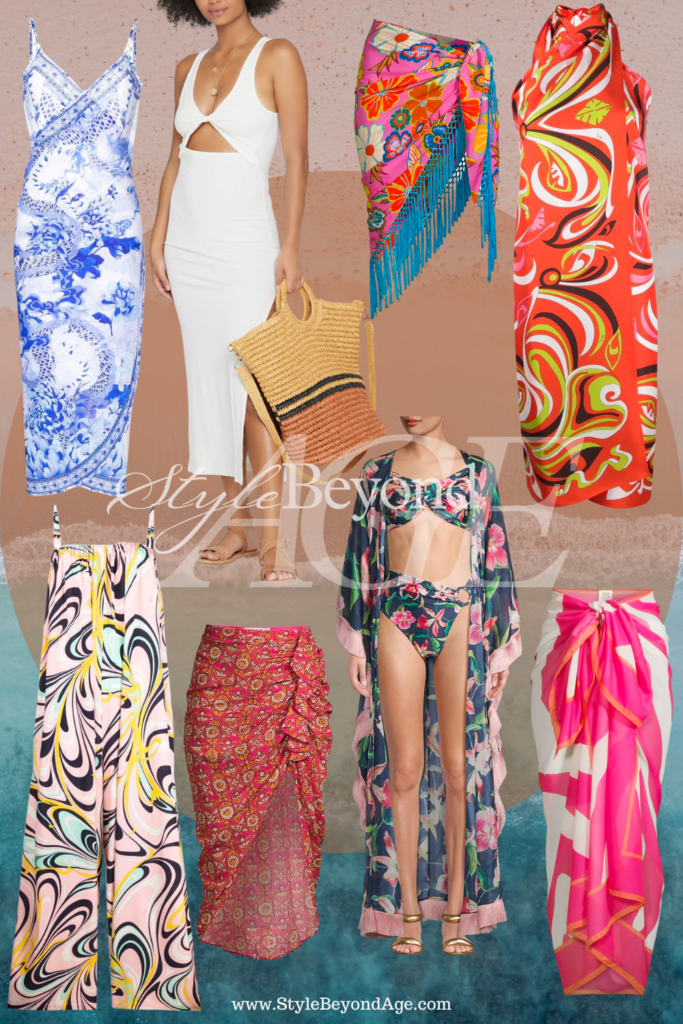 Camilla floral-print sarong dress
L Space Nico Cutout Cover-Up Rib Dress
Farm Rio Cotton Floral Fringe-Trim Sarong
PUCCI Africana-print beach dress
PUCCIOnde-print one-piece The Most Important Accessory: Confidence
Veronica Beard Hazel Wrap Skirt
PatBO Laelia Fringe-Trim Caftan
Milly Zebra-Print Sarong Skirt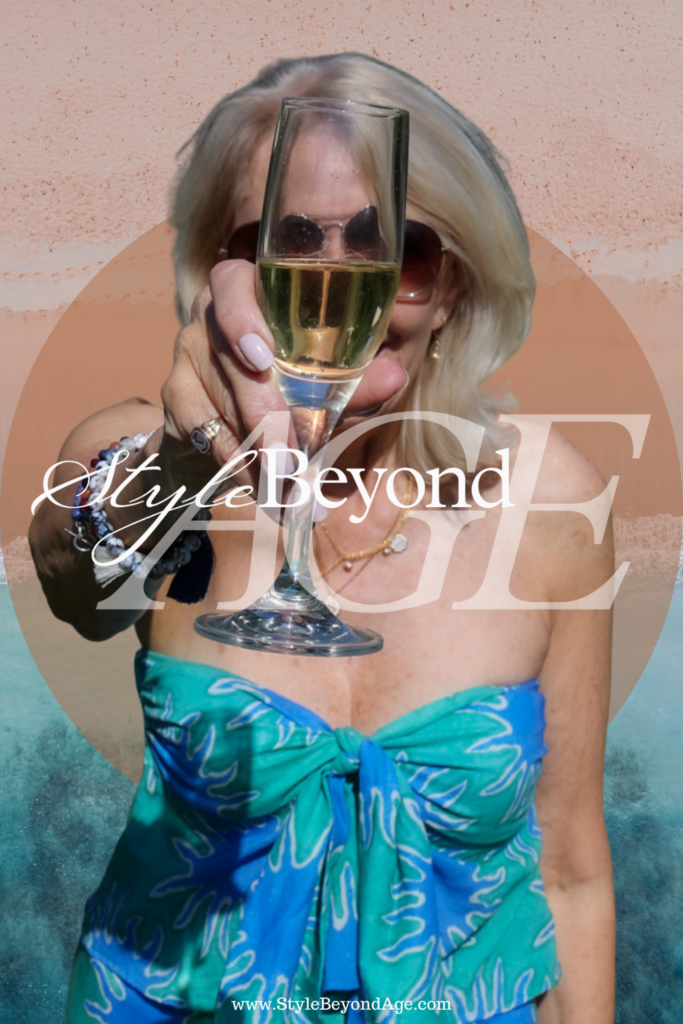 No matter what swimsuit you choose to wear, the most important accessory is not something you can purchase. It's confidence! Confidence is the key to feeling amazing at any age – and that includes when you're over 40. Love yourself, know your body type, embrace it, and let your swimsuit represent you. Try out some of these tips on how to find the perfect swimsuit for women over 40, and let us know! For tips on staying active (which helps boost confidence), check out THIS blog post.
Finding the perfect swimsuit is not just about fashion and style; it's also about feeling confident. Follow these tips, wear what makes you feel fabulous, and let your confidence radiate this summer!