The holidays are quickly approaching, but instead of flooding your social channels with yet another gift guide, I figured I would share some of my friends' beautiful thoughts.

Suzanne has such a beautiful home and she did a beautiful Christmas tour of it recently. The secret to why our homes smell so good, Nest Candles. Seriously, I can't find a scent I love more than these candles and I love gifting them to everyone on my list! My pro tip… I put them on candle warmers so I don't have to light the candles and get smoke everywhere.
Who doesn't crave comfort food when the weather gets cold?! I immediately went for the Truffle Mac and Cheese Crazy Blonde Life recommended because it just looked so good!
I think the perfect gift for any friend or party hostess is an Olive Oil and Balsamic Vinegar set! Tanya Foster picked out the perfect one from Terrain. Check out her other suggestions for Hostess, Friends & Neighbors here.
I met Annette in LA year's ago. What a vivacious woman! Besides loving vinyl records and including them on her 2020 gift guide, she has something I already own.
The Bey-Berk Shaving Set sits beautifully on my husband's bathroom counter already, and it works great for him, it might fit under your tree as well.
This beautiful Leather Airpods Case recommended by Reinventing 50's will make sure you keep your Airpods straight from anyone else's!

I definitely don't consider myself a Techie by any means, but this gift guide by the She She Show really spoke to me!
With these Airpods, I am able to tune out all of the extra noise around the house! Combined with Annette's Airpod Case, you have a good gift idea.
Herbs can be so expensive and perish quickly, so the Techie Indoor Garden is a perfect way to make sure they're always fresh and you're creating less waste as well.

Cathy and I met last year and it turns out we have a lot in common! Love for good PJs being one of them…
Usually, my PJ game is not on point, but it's so easy now to change that. Comfy fashion-forward and super smooth fabric. I could live in these! I totally agree with The Middle Page's recommendation of these stylish PJs.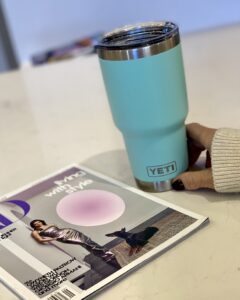 Beth always has great ideas and even better advice. Her 2020 gift guides were no exception!
My husband uses his Yeti everywhere we go and it keeps his water cold and his coffee hot all day long! Style at a Certain Age recommends it as a gift and I do too!
One of the great pieces she recommends is this gorgeous Crossbody Croc Purse from Madewell. This is definitely on my wish list as the perfect around town bag.
Sonia's Holiday Picks
Alright, so I couldn't resist giving you just a few of my own tips and ideas!

For both of you…
A Texas Staycation! Why not take a weekend and treat yourself to a staycation at the Crescent Court Hotel in Dallas?! I thoroughly enjoyed my stay in the Presidential Suite and love dining in the Crescent Club after a day of pampering at the Spa. Whether it's for yourself or a special someone, this is the perfect gift to escape from reality and live the high life for a while!

Another beautiful spot to visit in the great state of Texas is Camp Lucy! This gorgeous little resort sits right in the heart of Texas Hill Country and I had a wonderful time enjoying all of its luxuries.

For her…
Le Labo Perfume — Men, if you don't already have a nice perfume wrapped up for your special lady under the tree, you better be adding to cart now! This is the perfect elegant gift for someone you love. Order my favorite scent from Le Labo here.
Style Beyond Age Not-So-Subtle Hint
Do him a favor with this helpful hint… Throughout the year I take anything I'm interested in and tear it out of the magazine I'm reading and put it in a folder in his desk. Then when it comes time for the holidays, hopefully, he looks there for ideas. This can be anything from cute stationery to a great stay!

For him…
Toledo Knives — These gorgeous knives are light as a feather and are beautiful to display on your kitchen counter. These knives would go perfectly with…
Traeger Grill — What man doesn't want to fire up some steaks on the grill? Order yours here!

For the wine connoisseur…
Coravin — Sometimes I want to open a bottle of wine at dinner, but I'm not always going to finish the whole bottle in one evening! This preservation kit is perfect to keep your favorite or nicest bottle of wine fresh!
Wine Wand — Do you get headaches like I do when drinking red wine? These wands are my greatest find of 2020! They take all of the toxins out of your wine and let you have a fun night without the terrible morning after.
P.S. These wine glasses make for a great ($300+) stocking stuffer!
Happy gift giving!